The use of campaign logos for judicial elections is a relatively recent phenomenon and it has been found to play a significant role in the success of a campaign. A judicial campaign logo allows supporters to easily identify and associate themselves with a candidate. They can be seen as an indicator of the candidate's judicial temperament, priorities and values.
Want a FREE logo design for your campaign?
Our custom political website packages include a free professional logo design. Hiring a professional political graphic designer is expensive. So is using a logo maker that charges to download a decent quality graphic file – and only tells you after you've done the work!
Regardless of who does the work, you will need a high-resolution logo file. Web graphics are created in low resolution. Brochures, print material, and yard signs require graphic files of higher quality. We provide our clients with high-resolution logo files for free so your branding is consistent.
Judicial candidates in particular tend to fall under local rules or restrictions for judicial signage. There may be regulations on using certain imagery or text. Be sure to know any existing rules so you don't run into problems later. If we suspect an potential problem while we are creating your graphics, we'll let you know.
Sample judicial candidate logos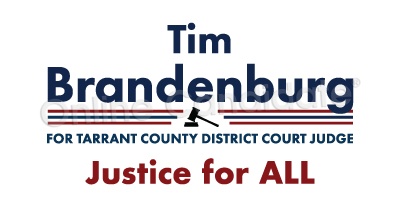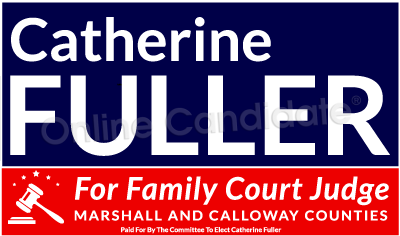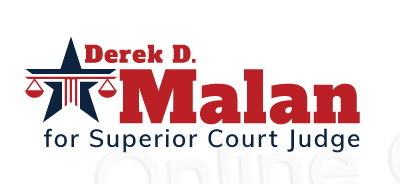 Judicial Logo Tips
Keep the design simple and dignified. Many candidates for judge use a serif font, as it is reminiscent of law firm branding. However, script lettering is more challenging to read and may not translate well in print. It's a good idea to keep the design simple and stay away from complicated graphics that take away from the candidate's name.
Incorporate legal symbols. We often incorporate graphic elements such as a gavel or scales of justice. They are done in a way that lets voters know that the candidate is for judge.
Limit the color scheme. Judges tend to go with black and white or red and black. Odd colors may get attention but may also distract from the messaging. The position of judge lends itself well to stark, strong impressions.
Keep your look consistent. Much of your voter branding comes from your logo. If you change it during your run for office, you'll lose much of that connection.
Judicial campaign logo templates are also available for download
Don't need a website? We carry judicial candidate logo templates for both Adobe Photoshop and Canva. Either a free Canva account or Adobe graphic software is required, depending on the template purchased. We also offer political graphic design services.

Our Custom Judicial Website Packages includes a free custom logo design and header. We'll also provide high-res versions for your print material. Why pay hundreds of dollars to have a designer just create a logo? We'll make one for you – and it's included with your website.
Related:
«
So You Want To Run For Sheriff? Here's How To Get Started
A List of Our Best School Board Campaign Slogans
»
Tags: graphic design, judges, logos