As you begin to brand your campaign, your sheriff logo should be designed so that it is recognizable at first glance by potential voters. It should embody the values and ideals of a sheriff, who is in charge of upholding justice for the community.
Want a free logo design for your sheriff campaign?
Our
custom political website packages
include a professional
logo design
. Why spend a lot of money on a professional designer? Or a logo builder that charges you for a decent quality version?
Regardless of who designs your logo, you'll need a high-resolution file. Web graphics are created in low resolution, but for brochures or signs, you'll need to use files that are of higher quality. We provide our clients with graphics that are optimized for high-quality printing in a range of formats including SVG, PDF and JPEGs. This helps keep your branding consistent.
We also have a good idea of what can and cannot appear on sheriff candidate websites and print material. For example, some municipalities forbid candidates from wearing a official sheriff badge or a law enforcement uniform in political material. If we suspect an issue while we are creating your graphics, we'll let you know.
Sample sheriff candidate logos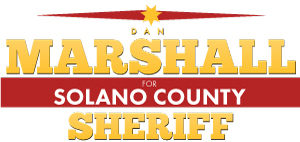 See other sample sheriff logos.
Law enforcement and sheriff logo design tips
Here is information about what design elements are in sheriff insignias, how to use them, and the importance of these elements in designing your own logo.
Blocky fonts work best. The typeface should be bold and easy to read. Many candidates for sheriff or any law enforcement position tend to use a serif font. Script lettering can be hard to read and don't translate well for print.
Use stark colors. Law enforcement often have adopts a black-and-white or blue-and-black color scheme, often adding their own logos on the cars and uniforms to make themselves easily recognizable. Some sheriff departments have adopted different color schemes, such as red or yellow for their uniforms, but they are yet to be widely adopted.
Stars and badges. Incorporating a badge graphic or shield into a sheriff logo is standard, and for good reason; It immediately tells the voter the position the candidate is running for. These design elements are often shaped in shield or circle. Other design elements include eagles and the iconic "Old West" badge.
Downloadable sheriff campaign logo templates
Don't need a website? We carry a large number of sheriff logo templates for both Adobe Photoshop and Canva. Either a free Canva account or Adobe graphic software is required, depending on the template purchased. We also offer graphic design services.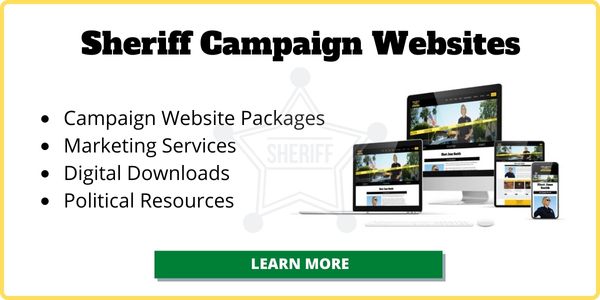 Our Custom Sheriff Website Packages includes a free custom logo design and header. We'll also provide high-res versions for your print material. Why pay hundreds of dollars to have a designer just create a logo? We'll make one for you – and it's included with your website.
Related:
«
Political IP Targeting Strategies for Your Campaign
Confusing Messaging Only Confuses Voters
»
Tags: graphic design, logos, sheriff