A sheriff is normally the chief law enforcement officer of a county. They are usually elected by the people who live in their jurisdiction and have many roles and responsibilities.
As sheriff, you are mostly involved with keeping people safe by upholding the law. You must make sure that there is law and order in your county to protect people.
A sheriff's duties include:
Keeping the peace and enforcing the law
Investigates crimes that take place in their jurisdiction
Presiding over the county jail
Acting as law enforcement for unincorporated areas of the county,
Providing security at local government buildings like court houses and voting precincts
Maintaining law and order in large public events while working with other law enforcement agencies (like police departments)
Handling emergency situations
A sheriff's department has jurisdiction over a small area, usually a county, and deals with crimes that range from public order to homicide.

Did you know? The word "sheriff" comes from the Anglo-Saxon words "shire reeve" which means "county protector." It was originally used to describe their role as an officer or overseer of a shire or territory at least two centuries before police forces existed.
What are the requirements to run for sheriff?
Qualifications to be a sheriff are often not hard to meet. You must be a qualified voter in the county where you are running for sheriff. Other qualifications may include:
Be at least twenty-one or twenty-five years of age or more
Have a clean criminal record
Pass the position's physical agility test
Demonstrate your ability to write proficiently
Complete any required training programs
You may be ineligible to be sheriff if you are:
Currently suspended or discharged from any public office
Convicted of a felony
Previously removed from office by court order
The term of office for a sheriff usually lasts four years with no term limits.
What does it take to win an election as a sheriff candidate?
Running for office can be a complex and daunting task. Some people argue that you don't need experience to be elected as a public official. However, the head of county law enforcement requires skills that come from experience – such as speaking in front of large crowds or being able to handle sensitive information with discretion.
There are certain things to know that will help you to prepare for your campaign. One is being aware of your strengths and weaknesses. You should know what your vision is, what policies you want to achieve as sheriff, and how you plan to do it.
Some common issues in sheriff campaigns
There are many community issues that a sheriff department faces. A candidate needs to know what they stand for, their policies, and how they will address community issues.
Some of the challenges that sheriffs face include:
Public safety and crime
Budgetary concerns
Effective communication between law enforcement and the community
Overcrowding in jails
High recidivism rates
Making jails safer and more efficient
The sheriff's office must find innovative ways of tackling these problems. A sheriff's job is not just about arresting criminals and locking them up in jail. They must also be an active part of the community and help bring about real change.
Creating a brand for your campaign
In many ways, the process of running for office is like creating and promoting a brand. Political campaigns must choose a slogan, create a logo, and choose colors before they can start building a website or creating print materials and signage.
Most sheriff candidates brand their campaigns tend to be one or more of these colors:
Blue: This color stands for security and trust. It has a strong connotation to law enforcement, which is why it is a good color choice for sheriff.
Gold: This color offers an elegant touch, while still indicating strength and professionalism.
Black: This color tends to be associated with power, strength, and authority.
One of the most recognizable symbols for authority in the US is a Sheriff badge. Most sheriff candidates include a badge within their campaign logo design. There are many distinctive styles for sheriff badges, but they all tend to be in the shape of a star. Departments have different badges; some are sided with five points while others use six-point stars.
Note: Most sheriff candidates may not use a photograph of themselves wearing a badge in campaign materials.

A sheriff's logo should show their seriousness and authority. The logo should be clean, simple, and direct. It needs to convey that the sheriff's office is there to protect the community.
How to campaign as a sheriff candidate
To get elected as a sheriff, it is important to have a plan of action. This plan should include how you are going to promote your campaign, who you're going to target, and what issues you're going to address.
You should make your campaign is based on substance, not soundbites. To get the support of voters, you need to tell them what your plans are for improving their safety.
Local campaigns traditionally use signs, brochures, texting, and phone banking as the main ways of communicating with voters. Promoting yourself door-to-door is a time-honored and effective tradition, but it can be exhausting canvassing from house to house.
Volunteers
Volunteers are needed for a local campaign to further the candidate's chance of winning. Volunteers help organize fundraisers and canvass in neighborhoods. The power of a campaign can be amplified when people are willing to help. This is why grassroots campaigning relies on volunteers and supporters.
Fundraising
Successful fundraising events are crucial to the success of a campaign. When you are trying to fundraise for a local political campaign, you need to know your audience and its interests. Typical fundraisers include different dinners, rallies, speeches, and outdoor events.
Online campaigning
Today, most county sheriff departments use social media to get the word out about upcoming events, traffic updates, and crime prevention tips. There are also many sheriffs who use sites like Facebook, Twitter, and Instagram to help identify criminals. They may post pictures of suspects to get the public's attention so they can identify the person.
Social media can be used as campaign promotional tool as well. Growing followers on Facebook and Twitter is fine, but paid online advertising is necessary to reach that audience. Of the two, only Facebook allows online advertising on its platform, and you'll need to be authorized to run ads.
Campaign websites are the most important part of any digital promotion. A good website will promote your candidacy, educate voters, and even raise funds.
Getting voters to remember you on Election Day
Most voters don't pay much attention to local politics, so a lot of people may be unaware of your upcoming sheriff's election. Your campaigning goal should be to promote yourself and lay out your vision so that voters remember you on Election Day.
Other Frequently Asked Questions
Do I need a law degree to get elected as Sheriff?
The requirements for becoming a sheriff vary based on the jurisdiction in which the person is located. However, they do typically require some form of secondary degree. A law degree is not generally required, though it may be preferred depending on the jurisdiction.
Are there any professional licenses or certification required to become a sheriff?
One of the most common misconceptions about sheriffs and deputy sheriffs is that there is a professional license or certification required to become one. It is possible to become a sheriff or deputy without any licensing requirements at all.
What does it take to become a Deputy Sheriff?
Deputy sheriffs are law enforcement officials that serve at the local level. They are responsible for enforcing state laws, except for federal crimes.
The requirements for becoming a deputy sheriff vary from location to location. Most deputy sheriffs attend a police academy after graduating high school and completing some college credits. The requirements vary by state, but generally include passing a written exam, physical exam, and background investigation before they can be sworn into office.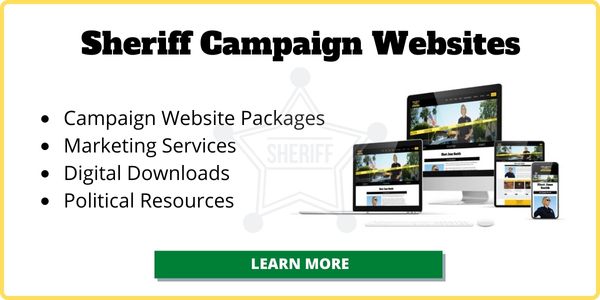 =
Build your sheriff campaign website with Online Candidate. With simple pricing and easy to use features, we help hundreds of candidates each election cycle.
Related Posts
«
Who To Contact If You Want To Run For Office
Judicial Campaign Logo Design
»
Tags: sheriff