"A journey of a thousand miles begins with a single step." This is an old Chinese proverb meaning that great things start from simple beginnings.
Sometimes that first step begins with a basic question. If you want to run for public office in U.S., the most common question is, "who can I contact to help me start my political campaign?"
The last few election cycles has seen a surge of people interesting in seeking elected office. There are record numbers of Millennials and women getting involved in the political process. If you've never run for office before, you're going to need help learning what it takes to get elected.
Fortunately, resources exist to help first-time candidates navigate the guidelines, rules, paperwork and best practices.
Related: Should You Make The Run For Local Office?
Before you begin campaigning, you must determine what office to run for. Many people start locally. This could be a run for city council, village council, school board or municipal district. Some elected positions are part time, others are full-time. All of them require a commitment that can last several years.
Who to contact to start your political campaign
There are several places you can reach out to for help when looking to run for elected office. They include:
Your state or jurisdiction's website
Local clerk
Political consultants
Others who have experience running for the office you seek.
Your state or jurisdiction's election website can provide filing dates and campaign requirements. Contact your local or county clerk's office for the necessary paperwork you'll need for the race you intend to run in. This can include petition forms, applications, disclosures and other filing forms.
You may want to reach out to political consultants who have experience in operating campaigns within your jurisdiction. They should know the process in starting a political campaign.
Others who have run for the office you seek may be able to provide valuable insights. They can be incumbents or previous candidates. Since they have already run a campaign, they should be familiar with the process. They may be also able to put you in contact with others they have worked with. Even a perennial candidate can be helpful through their own experience.
Tell no one?
Some people wait to start because for some reason they want to keep their candidacy a secret. We once had a local village candidate hold off announcing his candidacy for election only a week ahead of the date because he didn't want to, quote, 'tip his hat.'
The problem with that strategy was that he didn't have time to do any advertising. He was well-known to residents, but most probably did not know that he was in the race until they saw his name on the ballot on Election Day.
He lost.
While you might not want to make your candidacy known too early, you should learn as much about the process as you can. Once you make any filings or tell people your plans, you can count on the fact that word WILL get out that you are running.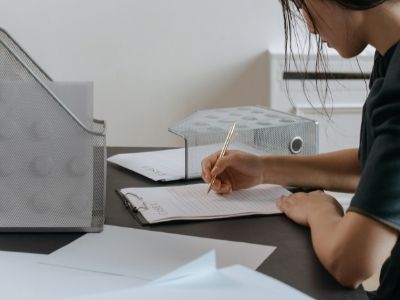 How to register as a candidate
To officially start a political campaign, you'll need to register to run for office. If you have met the eligibility requirements for the office you seek, you can declare your candidacy.
You will need to submit your paperwork in person or by mail by the proper deadline.
Registration provides notification of your candidacy and allows you to form a political committee. You will need a formal organization to open a bank account and start working with campaign contribution vendors.
Who you register with will vary depending on whether you are running for a federal, state, or local office. The general information required during the process usually includes the following:
Candidate's full name and contact information
Office sought, including the district and time lived there
Party affiliation
Committee name
Guidelines and requirements for various offices can be vary. State representative or state senate candidates should consult their state's procedures and requirements. In most cases, you will file your paperwork with your secretary of state's office.
For many elected positions, you'll need to reside in the state, municipality or district that you want to represent. There is usually a time requirement for residency.
Running as a party candidate provides access to information and resources. Political parties also help recruit and nominate candidates. Third parties rarely win elections, but they play an important role in introducing new ideas or pushing specific issues.
Judicial candidates often run without any party affiliation. Many states hold non-partisan elections for judges, prosecutors and district attorneys.
If you are running for federal office, you must register and file financial reports with the Federal Election Committee when you raise or spend more than $5,000 in contributions or expenditures.
At this stage, you are registering yourself as a candidate. Registering to appear on a ballot for a primary or general election will come later.
"Give me six hours to chop down a tree and I will spend the first four sharpening the axe." – Abraham Lincoln

Reach out for candidate training
There are organizations that help train candidates of all types. Here are a few that offer online courses:
These are just a few from our full list of organizations that provide political campaign training courses.
Knowing where to start can be overwhelming for those new to the political sphere. There is a lot of help out there – certainly more than there was 5 or 10 years ago. Take the time to prepare yourself before jumping into a race.
All Online Candidate website clients have access to OnlineCandidateResources.com for free articles, tools, graphics and additional resources.
«
Combining Political Print and Digital Marketing Strategies
So You Want To Run For Sheriff? Here's How To Get Started
»
Tags: begin campaign, campaign tips, local campaigns