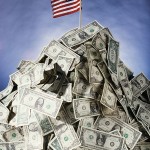 A successful political campaign can be an expensive endeavor. As money tends to be the lifeblood of politics, fundraising and managing expenses is an important part of the election process. Establishing a campaign bank account is an important step to starting a viable campaign.
A bank checking account serves several purposes. It allows you to accept political donations and contributions from supporters, and to make campaign purchases.
Open your political campaign checking account as early as possible. Campaign finance laws in many states require that a campaign bank account be established in order to legally deposit political donations and make payments for campaign expenses.
Prior to opening a campaign bank account, you may need to establish a political campaign committee with your local county Board of Elections. The name you use for your campaign committee is the name you will use to open the bank account. The bank will require committee paperwork along with personal identification.
You may want to open an interest-free checking account rather than an interest-bearing savings account. Any interest earned on a campaign bank account must be reported in your finance reports. Considering how little banks pay in interest these days, the small amount of money to be gained is hardly worth the additional effort required by your committee treasurer to report.
While a candidate's personal funds can be used for campaign purchases before a campaign bank account is established, those purchases are generally treated as an in-kind donation or as a personal loan. Once the campaign is underway, the committee treasurer should handle the political funds and keep track of income and expenditures. For larger campaigns, it may be a good idea to hire an accountant to make sure no overspending occurs and to keep track of contributions and where the money goes.
Because of financial filing requirements, it is important to keep detailed records of every account transaction. Keep statements, records and receipts in a safe place. They should be held indefinitely in case questions later arise as to your campaign finances.
As always, be sure to know and follow your local election laws to the letter!
With our affordable Online Candidate Website Packages or Monthly Option, you can start raising contributions today. Backed by great support and exclusive resources, we help hundreds of campaigns WIN every election cycle.