As costs and technical barriers have dropped, political campaigns of all sizes are now raising money online. Today, even local candidates can easily set up a donation page. However, it takes a bit of planning to properly set things up. And if you wait to begin the process, you may lose out on valuable fundraising time.
If you plan to do online political fundraising, start early. Or as early as you can. There may be laws limiting when you can accept political donations online. It's best to know what they are before you begin campaigning activities.
How to accept political donations online:
You need a bank account to accept online donations
Setting up a campaign bank account is one of first things a political organization must do. It allows you to collect political donations online and accept contributions from supporters in order to make campaign purchases. This is a critical step in setting an online donation program. You'll need that bank account in order to continue to the next important step…

You need a donor payment processor
A third-party processor lets you accept online online campaign donations without a merchant account of your own. Instead, they let you use their merchant account under their own terms of service, usually with very little setup required. A variety of fundraising and payment processors exist. A growing number of them are designed specifically for political campaigns. More on them below…

You need a political donation website
Any non-profit campaign needs more than just a Facebook page or a link to a PayPal account. Political candidates and organizations need a central website to set up donations. A website builds trust. Providing potential donors a single domain name to look up makes it easy for contributors to find you.
Most online donation services provide methods to set up donations through a website. It can be something as simple as a link from the site to the service's donation page or an embedded donation form that matches the website's look and feel.
A good website is one of the best tools to accept online political donations. The site design needs to look clean and inspire trust. SSL security is a must, and you should have a terms of use page. Your donation form itself should list any donation limits and disclaimers required for campaign compliance.
Knowing how to set up a donation page is a lot different than actually raising money. Slapping up a web page won't do much if you don't have a compelling reason for others to care about your cause.
Setting up a domain and website is not expensive and may be the best money your campaign spends.
It takes time for your account to be approved
It varies by processor, but it can typically take anywhere from 3 to 7 days to get your credentials verified by vendor. You will need to supply organization and personal documentation. Most services will allow you to begin taking donations before that time, but no money will be transferred to your campaign bank account until you are approved.

You may not get your money immediately
Online donations do not immediately appear in your bank account. There is typically a processing delay, as with any bank transaction.
Some processors will transfer your money money automatically. But this is not always the case. With PayPal, for example, you'll need to manually transfer money from PayPal to your bank account. Other services may transfer automatically, but there is typically a few days delay from the actual donation date.
Check with your vendor for details on how quickly your money is transferred.
Some vendors allow you to set up recurring contributions. This allows you to have a donor automatically contribute on a regular basis throughout the election season. This can work well for smaller donors who might not be able to give a large amount all at once, but can contribute a significant amount over time.
Just make sure you have it set to turn off recurring contributions by Election Day!

Costs are not the only factor in choosing a vendor to collect donations
Which payment vendor is better – a platform that charges a transaction cost of 3% or one that charges 6%? It's easy to assume the lower your transaction cost, the more money you will make. But fees don't tell the whole story. More 'expensive' and politically-geared processing vendors tend to have more built-in tools, including recurring payment options, custom contribution pages, social media widgets and online viral tools.
Bringing in more from political fundraising websites can more than offset higher processing fees.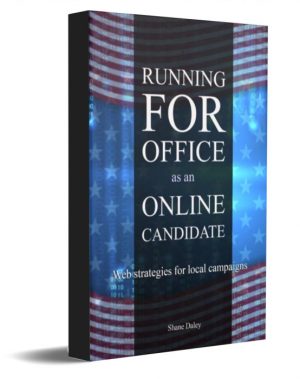 Running For Office as an Online Candidate
Download a free sample of the book. [PDF]
Additional contribution tools can lead to more and larger donations, both of which will put more money into your campaign, even after accounting for higher transaction costs. Of course, those tools and resources will only work to your advantage if you actually use them…
Advantages of political donation platforms:
Create donation and event forms customized to match your campaign branding.
Have one-time or recurring donation options to allow multiple donations throughout the campaign.
Social media integration to share updates and spread the word.
Text-to-donate and email-to-donate tools.
Set contribution limits and include custom disclaimers to your forms.
TIP: Use a processor that doesn't charge any monthly fees or set-up costs. See our campaign resources page.
Put a strategy in place to use the tools with the different channels through which you can raise money. That includes your website donation page, social media accounts and online advertising.
Take advantage of recurring donations
According to a recent Classy report, recurring donors were worth 5.4x more over their lifetime than one-time donors. If the donation platform for your campaign allows for recurring donations, make sure you take advantage of that feature.
A recurring donor is much more valuable than one-time donors. Those recurring funds will be especially valuable toward the end of your campaign as you ramp up your get out the vote efforts.

Should you use a generic payment processing company?
Some organizations try to use generic business payment systems like Square, Venmo and Google Shopping Cart for political purposes.
These services are not recommended, and here's why:
Generic payment processors are not the best way to collect donations online.  Those services do not easily comply with Federal Election Commission or state donor requirements. For example, they do not ask for a donor's employer, occupation, or contact information.
Another problem with vendors like Square or Venmo is that you don't receive your donations at the time that the donor's card is processed. You get the money from the aggregator based on their specific terms. That could be on a monthly schedule, every two weeks or even based on having a specific amount in the account. When someone donates, campaigns need that money ASAP. Delays in cash flow can prevent money being spent on advertising and print materials when it is needed  most.
For these reasons, we do NOT recommend setting up PayPal for political donations. Website contributions are more complicated due to additional information that political campaigns require. This donor information can be captured through PayPal with custom programming. But that's not something a small campaign usually has the time or resources to implement.
It's a better idea to choose a service that caters to political organizations. They include ActBlue, Raise The Money, Anedot, FundHero and more. They include built-in tools and social media integrations.
Note: Online Candidate provides a form and data capture for campaigns that want to use PayPal for political fundraising. However, this makes the donation a two-step process. First the donor must fill out the form, then they must make the contribution on PayPal.
An online donation platform must give donors a quick contribution method. Donors should be able to save their information so they can return later to contribute again and again. A recurring-contribution option can allow contributors to give regularly right up to Election Day. This helps increase overall donations and makes it easier to process as the contributions are made automatically throughout the election season.
Your campaign is responsible for following the law
Again, local election laws vary from state to state , and from office to office. There are restrictions ranging from when you can start election fundraising, how much you can raise, from whom you can raise money to donor disclosure rules.
Some laws depend on the municipal office you are running for. For example, judges may not be allowed to participate in campaigning activities, including soliciting donations, during particular times they are in office.
The Federal Election Commission (FEC) requires Federal political campaigns to use best efforts to collect and report the name, mailing address, occupation, and employer of individuals whose contributions exceed $200 in a given election cycle. PACs and political parties have additional disclosure and compliance requirements.
You are responsible for proper disclaimers and restrictions when taking donations online. Know the law and follow it to the letter. That will keep you out of trouble.


Plan your online political fundraising strategy
Now you know the basics of how to accept political donations online. Just as you may have offline fundraisers and events, you'll need to supplement those activities with a way to collect donations through the web. You'll need to set up a clear plan for how you will accept and track those types of donations.
While you can solicit donations via email and social media, you will need a political donations website as a central hub for your online fundraising efforts. A website to accept donations is essential for both political candidates and organizations. Special landing pages can collect political online donations from various channels. This makes it easier to track where the money is coming from and what promotional efforts are the most successful.
The best way to collect donations online is to leverage your offline activities to drive supporters and voters online so they can give money to your campaign.
If you are ready to start, get to it! Your donors are waiting…
Online Candidate campaign websites easily tie with any fundraising service you choose. With built-in tools and exclusive resources, find out why we are the choice for hundreds of campaigns every election cycle.
Image courtesy of scottchan / FreeDigitalPhotos.net
«
What's Your Campaign Theme?
Announcing Your Political Campaign
»
Tags: campaign fundraising, paypal for political campaigns, political donations