Political candidates face many challenges. One of the first and largest obstacles to any race is raising enough money to become a viable candidate.
This article offers vital guidance for successful political campaign fundraising, including strategies like donations, loans, and self-financing, starting with support from friends and family, organizing fundraising events, and the importance of thanking your donors.
Overview:
To get an idea of what your election campaign may cost, research previous successful races for the same office. Click To Tweet

Donations, Loans, and Self-financing
Depending on your location and the local voting demographics, a political campaign can easily cost a several thousand dollars or more. If you live in a city, expenses may even reach millions of dollars. If you want to know how much you can expect to spend, research previous successful races for the office you seek. That will give you an idea of your total cost and your potential cost per voter.
Political candidates get funding for their primaries and general elections through a variety of methods. The three most common ways of raising money for a political campaign are: donations, loans, and self-financing.
Outside contributions are the most common source of donations. Tactics may include direct solicitation by mail, phone, text, or through online channels. Fieldwork by volunteers and donor events are also crucial.
For Congressional and state offices, the three main sources of financial aid are political action committees (PACs), large individual donors, and small donors. Some political campaigns are self-financed. This happens more in both local elections and larger races where the candidate is independently wealthy.
The cost of elections seems to go up every cycle. If you are a first-time candidate running for a state or federal position, the expenses can be staggering. Even an election for town council, village board, school board, or mayor can be expensive. Judges and sheriff candidates don't have it easy these days, either.
Many first-time candidates have no idea how to raise money. Your strategy should begin with your decision to run for office. This is true whether you are running for a local elected position or even a state or congressional race.
Most candidates don't have a lot of money to pay for early expenses. Seed money donations are required to get things started, along with a campaign bank account. A financial team or treasurer is also needed to help track donations and expenditures.
Understand your financial restrictions. Campaign finance reports must disclose all funds raised and spent within a specific period . Know your filing deadlines. Reports must be submitted correctly and on time to avoid violations and fines that could harm your campaign.
Start with your friends and family
This is the most common way that candidates raise their initial seed money. Just making the ask can be tough, but if you want to raise money, you need to start with your most potential donors. This could be family members, colleagues, friends, or wealthy supporters. You can reach out directly or through mail. Tell your prospects why you are running, why you think you can win, and how their support can help.

Host fundraising events
Once they announce their candidacy for office, most candidates start with a "kick-off" fundraiser event.
The goal of a kick-off event is to collect money, begin to spread the word, and generate excitement. The event can be a sit-down dinner, an auction, a golf event, or almost anything else. To pay for that first event, use the initial funds you raised from friends and family. If you can get someone can donate a location and services, that's even better.
If you have a more formal event, include a special place for VIPs and charge more for those tickets. The most common way of charging is through a fixed donation price per person.
Today, many politicians have taken to live streaming virtual events on Facebook and Instagram as a way to interact with voters and supporters. Creating an online event requires the same preparation as an offline event. You will want to have an event page on your website, social media notifications, email invitations, continual reminders, and a donation page ready to go.
Make it easy for contributors to donate
Political fundraising has evolved in the 21st century. Where mail-in donations by check were once the primary way of collecting contributions, today online donations are the norm. These days, supporters fully expect candidates and organizations to solicit and accept donations on the web. Those who stick with the old 'mailers and envelopes' will have a tough time keeping up with opponents who are more technologically savvy.
Supporters expect candidates and organizations to solicit #donations online. Those who stick with the old 'mailers and envelopes' will have a tough time keeping up with opponents who are more technologically savvy.
Click To Tweet
Accept online donations securely
It's not very difficult to accept online donations. Your best place to set this up is through a secure website.
Many people will not donate money through a Facebook page or a Twitter link. But a campaign website provides a fixed place to send donors so they can learn more about the candidate and make contributions. Depending on your fundraising system, you can often create specific donation landing pages for different audiences and solicitations.
Just remember that your website exists as a conduit through which to raise money, not as a means unto itself.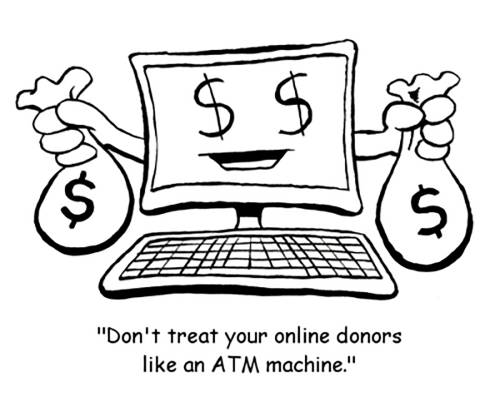 Use online channels for communication and outreach
Having a good online presence, even a small one to start, tells potential donors that you are serious about winning the election. Political fundraisers can be promoted through a variety of online channels.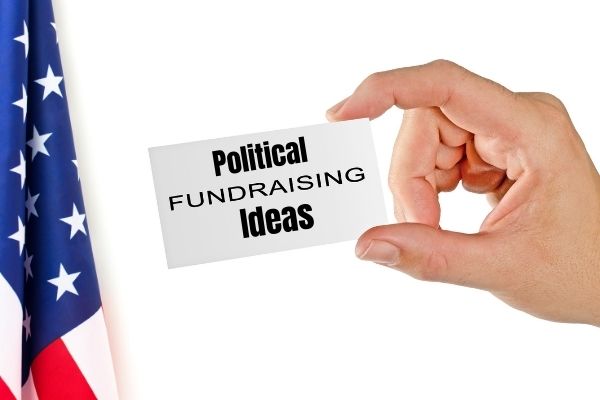 Ideas to raise money for your political campaign:

Use social media to raise awareness. You can start this process through your personal Facebook and Twitter contacts. Ask them to become the first followers of your campaign's social media accounts. Use those channels to keep followers informed and to ask for money throughout the campaign. Advertising can help you reach more local voters and potential supporters.
Use email extensively. Email can be one of your most effective digital channels. Start building your email list as soon as you can, starting with friends and relatives. Writing fundraising emails can be tricky, as you have to get the reader's attention with an interesting subject line and compelling message. One strategy is to compare your positions to those of other organizations or individuals that people recognize and care about; this helps them understand the impact of their support.
Peer-to-peer texting is increasing in popularity. It allows you to mobilize volunteers to directly recruit others to help a candidate, issue, or political party. P2P lets you form stronger relationships with donors, but it does require engagement throughout the campaign.
Some campaigns use pay-per-click advertising to appear when voters are searching for candidate names or topics related to important issues. If you are running a local campaign, don't expect to raise much money through pay-per-click ads.
Even local campaigns are using IP target marketing to reach voters directly. They can use voter address data, donor data, and party affiliation data to match physical addresses to IP addresses. Then they can send digital ads directly to those households.
Turn one-time donors into recurring supporters. Provide the opportunity for donors to give on a recurring basis through Election Day. This can help ensure that your organization has a steady source of income to continue working.
Set up specific landing pages for your different online fundraising campaigns. Tailor each landing page to match the 'ask'. In other words, don't just send everyone to the same donation page. You will have a better conversion rate if your landing page matches what your site visitor expects. If your request is about a particular issue, the landing page should address that issue in some way. It should reinforce the reasons for giving.
 Tailor each landing page to match the 'ask'. In other words, don't just send everyone to the same donation page. You will have a better conversion rate if your landing page matches what your site visitor expects. If your donation request is about a particular issue, the landing page should address that issue in some way. It should reinforce the reasons for giving.
What political fundraising service should I use? There are a number of fundraising services that process political donations online. Many services have software tools that go beyond simple transactional processing and bank transfers. They may allow you to take donations directly through your Facebook page, provide landing page creation, and track the success of different fundraising channels. They even allow you to process donations directly at political fundraising events.

Start fundraising before you even announce
Crowdfunding is a process where individuals pool money and other resources online to fund projects. Crowdfunding can help you get a head start on your initial fundraising for local campaigns. It can help candidates who cannot afford to self-fund their own election campaign.
Raising donations through this method can work by starting with close acquaintances and family. If you can raise enough seed money through them, it can get you over that initial financial hurdle.
You can even research who contributed to past candidates. For example, for state-level races, try followthemoney.org. The site claims that it has documented more than $100 billion in contributions. If you find like-minded donors, you could reach out to them to see if they might lend you support.
Crowdfunding sites set conditions for financial support. The process can help determine if you are viable as a candidate. You can determine what initial support exists and help secure initial financial pledges before establishing a formal campaign. It's like a 'conditional' fundraising campaign before you formally declare your candidacy.
After you decide to run, you can continue to use your account throughout the general election.
Note that some positions, especially those of judicial candidates, may have limitations on when they can solicit money and even when they can start spending campaign funds.
Go big with big donors
A lot of small donations are great, but big donors pay the bills.
Don't be afraid to ask for large donations, especially from those who have the means. If you ask for too little, you may shortchange yourself.
Your local party may be able to provide you with information on large contributors. These may be individuals, businesses, or organizations. Other candidates who have won elections for the position you seek or currently hold a similar elected position may be able to provide you with donor leads. The more information you have about potential "big" contributors, the better.
Personalize your request when you talk to potential donors in person, by letter, or by email.
Research donors before you approach them:
What issues do they care about? How does your campaign address those issues?
What other causes are they a part of? Do they relate to your organization?
Do they have a history of giving? If so, at what level?
Always follow the rules. For example, under federal law, contributions over $200 to federal candidates, political action committees (PACs), or parties must be itemized and disclosed to the Federal Election Commission. There may be additional individual contribution limits that apply as well. If necessary, seek legal advice.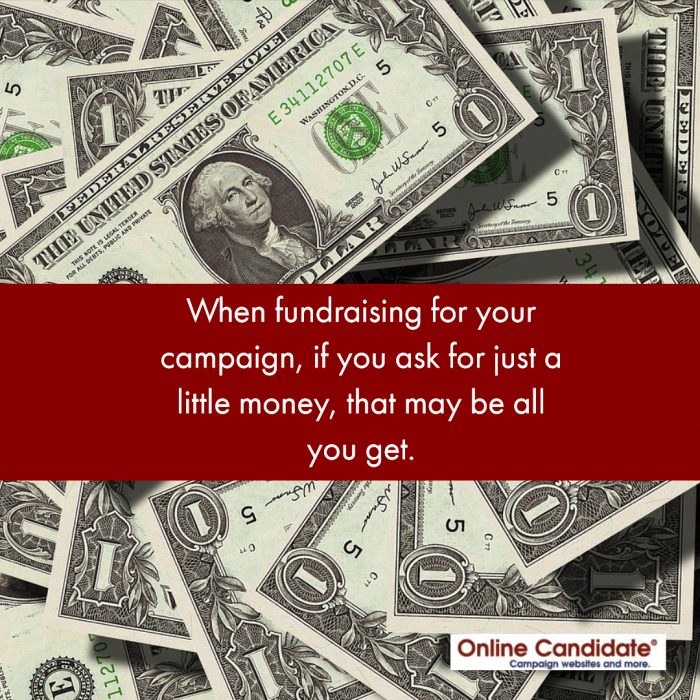 Keep Building Your Prospect List
Along with your email list, your donor list will eventually become your most valuable asset.
Keep your donor information up to date with contributors, amounts, and other information as required by donor filing laws. Keep building your list with supplemental donor information. What issues are of importance to them? Do they prefer to donate by mail or online? How much influence do they have online or offline? Who else do they know or have relationships with that can help your candidacy?
Grow your email list for political fundraising prospects
Get people to sign up for your email updates through your website and social media accounts. Include sign-up forms at every event and rally to capture emails offline. (Don't forget to mention that your campaign will be in touch with them if they provide an address.)
These methods will allow you to build a list of donors that you can tap into for online political fundraising throughout the election.
With that list in hand for your next campaign, you will already have a head start. These will be the first people you invite to the next big political campaign fundraiser.

Be Thankful To Your Donors
Always follow up with some sort of acknowledgement. A personal note makes a great impression on a donor. It will increase the likelihood that they will give again.
A successful campaign for office takes a lot of work. In a competitive local election, every vote counts. Raising money is just part of the process. Be prepared to devote hours to fundraising calls and even more time at fundraising events. We hope this help you put together a solid plan that will help you get started.
Related:
Getting ready to run for office? A political campaign website from Online Candidate is affordable for any size campaign.
«
5 Ways To Connect With Voters Online
Personalized Consultation for Your Political Campaign
»
Tags: bank account, budgeting, election tips, local campaigns