Online campaigning has evolved over the past decade. So has the spend on political digital marketing.
Digital media spend totaled $1.9 billion in 2018. That was a 20% share of total political ad spending, according to a Borrell Associates study. Much of this spend was on the local level for elections and ballot initiatives. In the post-pandemic era, you can figure that at least 20-30% of a campaign's advertising budget should be dedicated to digital.
With these numbers in mind, how much should your campaign budget for digital advertising?
To determine how much a political campaign will cost, we need to pull together a few numbers. First, you need to know how many votes you need to win your race. This can be an estimate, but it provides a base number in determining the amount you will need to spend. Your local board of elections can help provide information.
In addition to the number of votes cast, look at what money was spent by winning candidates in past elections. Dividing the amount spent by the candidate by the number of votes cast will give you the cost per single vote. For federal elections, you can check opensecrets.com. This number can vary depending on the elected position and whether it was a general or primary election.
Of course, money doesn't always translate into political victory. (But most of the time, it does.)
Political campaign budgets are determined by several factors. They include staffing, voter operations, fundraising costs, and mailings. These line items tend to be more fixed costs. Digital expenses can be harder to budget for as costs can be more fluid, depending on real-time events.
Let's look at the math to determine a rough digital budget estimate for a political campaign.
Suppose you need 5000 votes to win your local election. Based on past races for the position, you've estimated that your cost per single vote is $5.
So if you need 5000 votes to win, and will spend an average of $5 per won vote, and you plan to spend 20% of your budget on digital, then your budget for digital media would be $5000. (5000 votes x $5 per won vote == $25000.) 20% of that for digital equals $5000.)
Some local candidates will do the minimum and just build a political website. Others will also create social media accounts on Facebook and Twitter.
Unfortunately, you won't get far or attract much of a following without spending money. In the online realm, there is no free lunch anymore.
Even low-budget local candidates must campaign online to reach voters. How a political marketing budget is spent will depend on your resources and how you want to reach voters.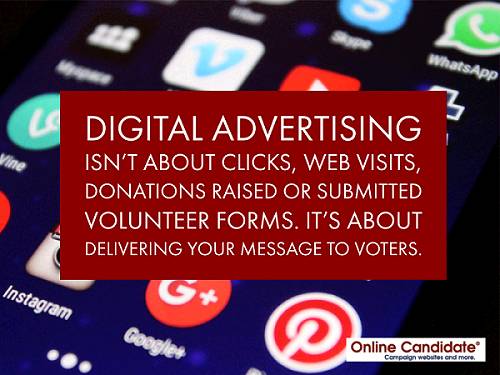 Facebook advertising is a cheap and simple way to promote your campaign. You can promote posts and target Facebook ads to voters in your area. You can target your even ads by interests and demographics. However, new restrictions and disclosure requirements are changing the ad landscape. If you plan to run ads on Facebook, prepare early and get yourself verified. Depending on the number of people you want to reach, pushing individual posts can cost as little as $5-20 each to promote to your followers and their friends or as much as hundreds of dollars if you target a much larger audience.
Pay per click on Google is another method of promoting your campaign. Ads are displayed when people search for phrases that you bid on. Most campaigns will target their name, location and keywords related to various issues. Display advertising allows you to broadly market to geographic areas.
For Google display advertising, political advertisers are limited and can only target by zip code, age and gender.
Retargeting displays recurring ads to people who visit your campaign website. The goal is to get them to return to your site by showing your ads on ad networks that  display on other websites. While affordable, this advertising method limits your audience only to those who have already seen your site.

IP Targeting allows you to reach voters directly, even if they have never visited your website. Physical addresses can be translated to IP addresses, allowing ads to be targeted one-on-one to potential voters. You can reach members of your party, households matching a certain demographic or even specific geographic locations. IP-backed banner ad campaigns have been shown to be 50 to 100 times more targeted then television, and 6 to 60 times more effective than other online ad methods. IP Targeting starts at $750 per ad campaign.  This is a service offered by Online Candidate. Learn more about political IP Targeting.

Text messaging services have grown in popularity and ease of use. Text messaging has a very high delivery rate. However, recipients must opt-in to receive texts. You can send a mass text message to supporters during important points of the campaign. For example, you could send one after a debate or rally, and ask for a donation. Text messages are a good follow-up for volunteers who are working phone banks.
Most online services provide pricing, so you can get a rough idea of how much you might spend on particular services over the course of a campaign. PPC and social media might be more difficult budget for. You may want to start a trial campaign just to see what your costs may entail. Even with a rough number, budget extra money for unexpected expenses and for a major push just before Election Day.
The key to advertising online is to reach voters and constituents wherever they are. Not everyone uses social media or has a data-enabled cell phone. You wouldn't just rely solely on television or radio ads; use as many advertising mediums as you can – or can afford to use.
Ideally, you want to advertise several weeks to over a month before the general election. Why so long? The election season starts earlier than you may think. There are mail-in voters to consider, and the early voting that some states initiated in 2020 have since become a trend.
Tracking your marketing efforts is important. Your campaign site should have analytics to track your visitors and where they come from. If you can, split test your outbound messaging. Testing and monitoring your results helps you discover what resonates with voters and provides the most interaction. This includes running multiple PPC ads at one time, A/B testing your email subject lines, using different splash pages for your fundraising efforts and carefully monitoring your social media interaction.
Digital advertising isn't about clicks, web visits, donations raised or submitted volunteer forms. It's about delivering your message to voters so they remember you when they cast their ballot.
The more touches and exposure you make, the better. It improves your visibility and improves your personal brand.
How much should you put aside for your digital efforts? Our advice for smaller campaigns is to allocate a decent percentage of your campaign's ad budget to online and digital. Budget some early money toward building exposure and online fundraising. Later, spend to increase awareness and later budget for your get out the vote efforts.
Ultimately, your advertising success is measured in votes on Election Day. Digital advertising is a big part of that. Even if you are in a local race, be prepared to devote a section of your budget to online spending.
Online Candidate provides an affordable, powerful way to build your online campaign. Find out why we are the choice for hundreds of campaigns every election cycle.
«
Choosing a Political Campaign CMS
Creating a Political Campaign Swipe File
»
Tags: budgeting, campaign promotion, geotargeting, political advertising