As a candidate running for school board, you'll want to stand out from the other candidates. Good school board campaign slogans help keep candidates in the minds of voters.
As a school board member, you will take an active role in your community. You will have a hand in the policies and issues that effect your local school district, teachers and students. Your election slogan should best reflect your priorities as a candidate.
Here is a list of our best slogan ideas for school board:
Better Schools For A Better Tomorrow
Working for a Better Classroom
Academic Excellence Today
Putting Students First
Make our Schools Great
Restore our School District
Working for Our Children
A Positive Voice For Our Children
Improve our Schools
Valuing our Children's Education
Working for a Better District
Protecting Your Tax Dollars
Education is Key
Hard Choices, Better Schools
Common Sense Solutions
Education First
Better Schools for a Better Future
Your Voice on the Board
An Advocate for our Youth
A Good Education is Elementary
Accountability and Integrity
Inspire our Students to Achieve
Vote for Improved Education
Raise Your Voice, Make a Choice
Stop the Violence
For a Smarter Curriculum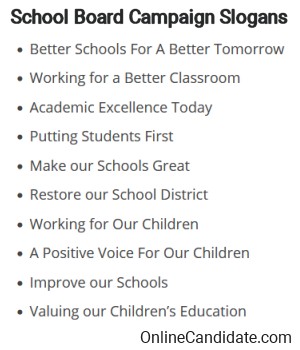 How to create a great campaign slogan that speaks to voters
Come up with a few of the most important issues facing your school district. They may already be part of your school board campaign platform.
Are there any hot topics that are of interest to voters and will inspire them to turn out at the polls? They may be the reasons why a parent is considering whether to send their child to your district. Other issues often include the school district's budget, school safety and security, teacher quality or effective career paths for students.
Brainstorm a few slogan ideas and refine them.
Choose your final slogan and use it in your logo, signs and print material.
Elections for school board often have low voter turnout. It's important to stand out from your opponents. A catchy slogan can boost your exposure and help you win your election.
Start your website for school board with Online Candidate. We've got the expertise, the resources, and the affordability you need to win. Contact us today to get started!
Related articles:
Judicial Campaign Logo Design
Online Political Candidate Training Programs
»
Tags: school board, taglines