A solid plan is key to any political victory. While it might be tempting to announce your candidacy as soon as you can, it is often not a wise move. There are many tasks required in preparing for a campaign. Candidate checklists play a big part in organizing your efforts. Being prepared will allow your team to hit the ground running.
In this article, we are going to put together a series of political candidate checklists for tasks when running for office.
Article Highlights:
Candidate Preparation: Prioritize planning, gather contacts, and research your public history.
Campaign Timeline & Strategy: Set clear campaign calendars, know your deadlines, and define key issues.
Outreach & Messaging: Use a variety of outreach techniques, maintain consistent branding, and tailor your message.
Post-Campaign Activities: Thank supporters, analyze election results, and close campaign operations efficiently.
Get a list of your contacts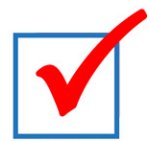 One of the first steps in putting together a campaign plan is to gather a list of people who you think will support your candidacy. Are there people you know who can play a role in your campaign team? You probably know more people who can act as volunteers or even your initial donors. Now is the time to pull out your phone contact list (or, for you older readers, your Rolodex).
Your contacts can include:
Friends
Family
Present and past co-workers
Business and professional contacts
Contacts from organizations and memberships
Party officials / Elected officials
Schoolmates
Once you have gathered your contacts and their information, you will need to keep them organized. To do so, put them on a spreadsheet, database, or a CRM. When you are ready to reach out to these people, you will be able to find them easily and track the support they provide.
"The checklist is one of the most high powered productivity tools ever discovered." – Brian Tracy
Research your public history
Do you know your own public history? If not, then you will need to conduct some in-depth research on yourself. Knowing what information about you is available can help you avoid any pitfalls that may come your way.
Your personal information may include:
Current and prior addresses
Mortgages and loans
Property ownership / taxes and liens
Employment history
Licenses and certifications
Military service
Court proceedings and judgements
Criminal record
Statements of public record
Social media accounts
Public campaign finance records (donors and donations)
The more you know about your own public information, the less chance another candidate has of surprising you with a bombshell accusation. In addition, you will be prepared for whatever mud is slung your way.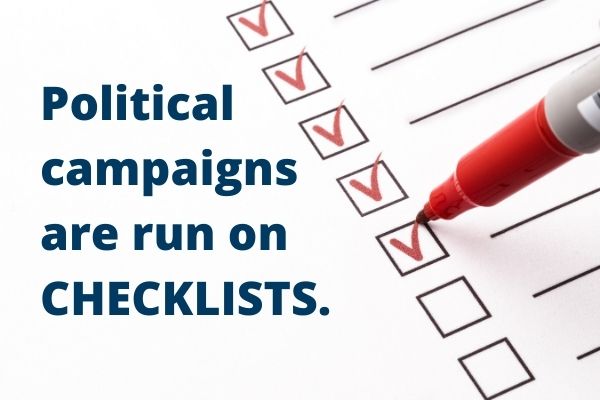 Do your homework on the position you seek
You may be running for town council, mayor, school board, coroner, or dog catcher. No matter what elected position you are running for, it is wise to learn everything you can about the position you seek. If possible, put together a team that can help you learn the most about your potential new job. Knowing what is required will allow you to quickly act once you have been voted in. Also, if you appear to be knowledgeable about the position, people are more likely to vote for you.
What you should know about the position:
Legal duties and powers assigned to the elected position
Position within the government structure
Schedule of workday and meetings
Ceremonial duties
Salary and benefits
What was required for the current office holder to be elected
Create candidate checklists for your campaign timeline
This can be broken out into its own checklist – or multiple checklists. You need to know the timeline for your campaign. Some things will be in your control, such as when you hold fundraisers or public events. Other dates will be determined by your local election law.
A typical campaign calendar checklist includes:
Nomination filing date
Petition filing deadlines
Financial reporting schedule
Primary date
Election date
Final financial report
Compliance with deadlines is a must. Candidates can and do get kicked off a ballot for not adhering to proper deadlines.
Other campaign timelines include:
Your fundraising schedules
Volunteer efforts
Candidate appearances
Debates
Advertising schedule
Staff meetings
Bulk mailings
Sign distribution
Count on creating plenty of campaign calendars throughout the season. You'll need campaign staff that is organized and prepared to work with a plan. They will also have to deal with unexpected events as they come up.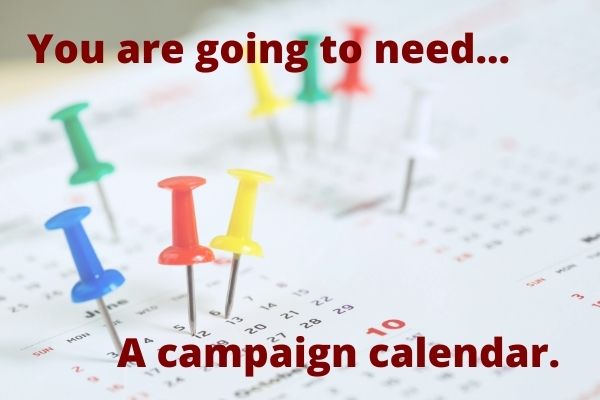 Compliance with deadlines is a must. Political candidates can and do get kicked off a ballot for not adhering to proper deadlines.
Click To Tweet
Develop your positions on the issues
While developing your campaign strategy, you will need to adopt positions on the issues. This is incredibly important and should never be overlooked. Your political positions will be the heart of your campaign and will show voters where you stand.
Candidate issue checklist:
What are the major issues?
Rank issues in matters of importance.
What is my position on each issue?
What is the most important issue that the candidate will take as their own?
Prepare written statements of the candidate's positions.
What is my opponent's position on each issue?
Put together material for print and web
Gather Photos: You will need to gather pictures for use in your campaign. You need a good headshot, of course. Also, get pictures of you with your family and of you being active in your community. Consider hiring a professional photographer to put together a strong portfolio.
Utilize Past Materials: If you have run for office in the past, you may be able to recycle some of the content of your old campaign material into your current race.
Write a personal biography
When you run for office, voters need to learn about you and who you are. In many local elections, voters will simply skip the line for candidates they know little or nothing about. Developing a personal biography as part of your candidate checklist is so important. You will want to include not only your professional history but also your personal history.
The basics of candidate bio include:
An introduction
Your experience
Personal details
What you hope to accomplish in office
If you are not great at writing, you may want to have a copywriter do the job for you. Choose a writer that specializes in biographical writing to get the best results.
"If you don't tell your own story and define yourself, your opponent will."
Build your own brand
As an election ultimately 'sells' a political candidate, you will need develop a brand to represent you.
This includes your:
Colors
Campaign slogan
Stock images of yourself
Everything should come together to best represent your own personal style. When it is done right, voters will see your campaign material and will immediately associate them with you.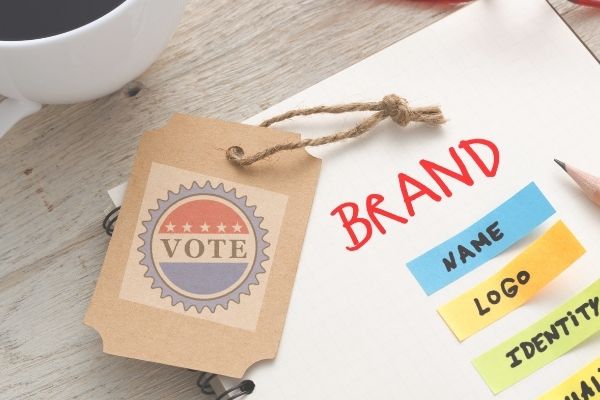 Develop an online presence to reach voters
Conducting a self-search is the first step in developing an online presence. Put your name in the search engine and see what comes up on the first few pages. This will give you a good idea of what people see when they Google your name. If what you find is negative, you will need to improve your online image. Below are a few things that can help you influence your online presence and build a solid online brand.
Create a website: As a candidate, you will need a place online to share your message, provide updates, and accept online donations.
Develop a social media plan: In today's world, no political campaign plan would be complete without social media.
Prepare for digital advertising: With a low barrier to entry, even local candidates can put together an effective online political marketing strategy.
Recommended reading: How Much Should Your Political Campaign Budget For Digital?
"A checklist cannot fly a plane. Instead, they provide reminders of only the most critical and important steps." – Atul Gawande
Put together a fundraising plan
Raising money is essential for exposure. From small-dollar donations to large corporate contributions, every dollar is important. You'll need a solid plan to start fundraising and keeping the money flowing through election day.
Online Donations:
Optimize your campaign website for mobile donations.
Set up secure online payment systems to ensure donor trust.
Promote recurring donations for consistent funding.
Encourage small-dollar donations from a broad base.
Use social media challenges to boost efforts.
Fundraising Events:
Organize events like dinners and rallies with influential speakers.
Offer tiered donation levels with benefits, such as extra swag or photos with the candidate.
Sell campaign merchandise like shirts, hats, and pins.
Consider hosting virtual fundraising events for broader reach.
Corporate and PAC Donations:
Understand legal limits of contributions.
Make sure your reporting remains up to date.
Build relationships with aligned industry groups. This can include businesses, unions, or other affiliated organizations.
Host industry-specific roundtables or discussions about the issues.
Provide regular updates to large and corporate donors about campaign progress.
Voter outreach
Direct voter outreach is the core of any political campaign. It's about making genuine connections, understanding voter concerns, and presenting your vision to address the issues. Here is a list of outreach techniques you'll use:
Targeted Voter Canvassing:
Before you hit the streets, you need to know know where to go. Use data analytics to identify neighborhoods and demographics likely to support you.
Equip volunteers with campaign literature, talking points, and a feedback system.
Use mobile apps to track and manage canvassing efforts in real-time. It will help track your volunteers and gather data efficiently.
Regularly train and update your volunteers on campaign developments and strategies.
Phone Banking and Texting:
Train volunteers on effective phone scripts and objection handling.
Use auto-dialer systems for efficiency.
Follow-up with text messages after calls to provide additional information or resources for interested voters.
Track responses and call feedback to refine your overall outreach strategy.
Encourage supporters to talk to their friends, family, and neighbors about your campaign.
Digital Outreach:
Utilize targeted ads on platforms like Facebook, Google, and X/Twitter. (And make sure you are authorized to advertise well in advance.)
Engage with voters through webinars, virtual town halls, and Q&A sessions.
Use text messaging (SMS) campaigns to send updates, reminders, and calls to action.
Use email Campaigns to regularly update your supporters with newsletters, updates, and calls to action.
Social Media Engagement: Regularly post content, respond to comments, and engage in online discussions to maintain an active online presence.
Video Content: Create and share campaign videos or live streams to reach a broader audience.
We have seen too many clients wait to authorize their campaigns for online advertising platforms. If you wait too long, you'll miss the opportunity to run digital ads. Start the process as early as you can!
Direct Mail Campaigns:
Design compelling mailers with clear calls to action.
Segment your mailing list for personalized messages.
Include QR codes on mailers for easy access to digital resources or donation pages.
Feedback Mechanism: Add a way for recipients to provide feedback or ask questions, such as a website form or social media account that is monitored.
Messaging and Communication
Ensure your message is clear and consistent. You've probably noticed that the most successful politicians hammer away at the same message over and over. Every stump speech, every interview, and every ad will use the same talking points.
Consistent Branding:
Develop a consistent visual identity as discussed above.
Ensure all campaign materials reflect this branding.
Use your style guide for all campaign communications.
Tailored Messaging:
Segment your audience for resonant messages.
Test different messages for effectiveness.
Use data analytics to refine your messaging strategies.
Don't just broadcast. Understand voter concerns by speaking with and interacting with voters and organizations.
Rapid Response:
Monitor news and social media for negative publicity.
Use platforms like X/Twitter for real-time communication.
Set up a dedicated PR team for damage control.
Engage directly with supporters to counteract negative publicity.
Post-Campaign Activities
Whether you win or lose, you should take the time to properly wrap up your campaign. Here are some items you'll want to do after election day.
Thank Yous:
Send personalized thank you notes to supporters.
Organize appreciation events for your team.
Update your website to announce the results of the race.
Election Analysis:
Conduct a post-mortem analysis  to find out what worked and what did not.
Gather feedback from staff, volunteers, and your primary team for future campaigns.
Analyze the overall voter turnout and demographics to better understand your victory or loss.
Review your numbers to figure out where you spent your budget, and how it could have been spent better.
Shut it Down:
Contact vendors and get any remaining payments settled ASAP.
Close accounts that are not needed, so that you do not get billed.
Archive campaign materials for future reference.
Hold a final team meeting to acknowledge everyone's efforts. Discuss the next steps.
In conclusion
Now that you have some helpful checklist ideas, why not start putting your political plan into action?
The sooner you start, the better you will be prepared when it comes time to hit the campaign trail. With a solid plan in place, your chances of victory are much higher.
Download a PDF version of these checklists: Political-Campaign-Checklist-For-Candidate
For more checklists tips, tricks and useful strategies, see our book Running For Office as an Online Candidate. It provides a digital blueprint and strategy to help you win.
«
Our Most Popular Online Candidate 2022 Posts
Political Resources Included For Online Candidate Clients
»
Tags: begin campaign, checklists