It doesn't matter if you are part of the establishment or a complete outsider, every political campaign needs a brand in order to effectively communicate with voters.
Today, this is more than just a logo, colors and a slogan. Your 'brand' as the candidate is determined by how you act or conduct themselves both in public and online.
Here are a few tips for creating your political brand.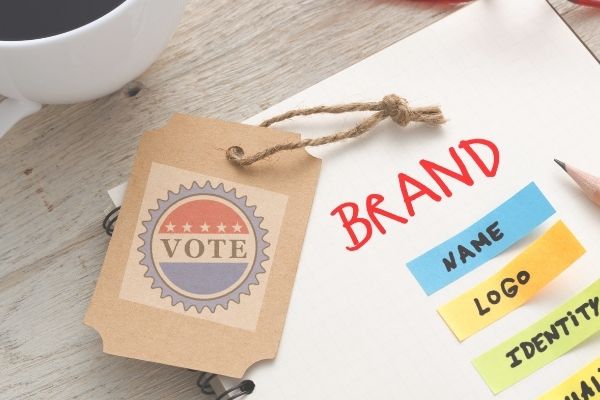 Stake your claim
If you want to know how to brand a political campaign online, it starts with the basics. Get your campaign domain name, Twitter handle and Facebook page as early as possible. Use a similar name for each so someone could easily tell that they are from the same campaign. If you wait too long, someone else might take them first.
Match your #political domain name + social media handles as early as possible. via @onlinecandidate
Click To Tweet
Whatever you do, don't start advertising or having print materials created before you have your website and/or social media accounts under your control. We once had a client who had printed materials before they registered their campaign website domain name. And guess what? It was already taken. The client had to register another domain – and scrap a whole lot of flyers.
Keep a consistent look and brand across all platforms
One of the first things you'll want to do is decide on your color scheme and logo design. Take some care in deciding these things as it never a good idea to switch your design branding during a campaign.
Once you have your colors, you'll want a a good campaign logo design that reinforces your campaign brand. Even your font selection and imagery contribute to the overall look. There are certain conventions for branding in political campaigns. In the United States, this includes standard block lettering, red-white-blue color themes and a more horizontal layout.
Here are a few political logo examples that we've designed for our clients:
If you an underdog and really want to stand out from the crowd, switch up your fonts and colors. This is why many independent candidates tend to go with yellows, greens and purples in their designs. Having a tall logo rather than a wide one will stand out. However, it might be a little difficult to adapt to signage and print pieces, such as a letterhead.
Are you running as an outsider? Your political branding strategy may be to look and sound different than your opponents. Once you have an established look, plan to stick with it.
Consistency in brand goes beyond color and font
Use your campaign logo and color scheme as much as you can. Take social media, for example. Both Facebook and Twitter allows you to add an image to the top of your page. While they both have different dimensions, the header images should have a similar look and feel. On Twitter, you can even adjust the colors of your profile page. Even your campaign emails should have a consistent look to them.
TIP: Have your personal photographs taken by a professional. Select a few good photos and use them consistently on your website and social networks. That way you will be recognizable across multiple online platforms and offline mailings.
Keep a single voice
Ever wonder why politicians use the same phrases over and over (and over) in speeches and interviews? It's all part of branding a consistent message. This is why political speech tends to be simple with easily repeatable catchphrases rather than nuanced and detailed.
Many times, political candidates will stick to using an effective campaign slogan. A good slogan will summarize a campaign in a short memorable phrase. Sometimes it is so important that it is incorporated into a campaign logo.
Content should also be part of your brand. Remain consistent in the tone of your website and social media content. Your material should match previously stated policies and issue positions. Even if others post for your campaign, the 'voice' should remain the same. Stay clear, consistent and positive.
But don't make everything you post lifeless and dry, as if it were vetted by a dozen public relations experts.
Take some risks and go outside the box. Give an opinion or two. Make an observation about what's going on in the world. Share some inside information with your followers. Make some interesting and fun posts about events, fundraisers and the things you are doing on the campaign trail. Spice it up with photos and video – material that you also brand.
Make your campaign memorable so your brand is worth following
Don't fall into the habit of just blasting fundraising requests to your audience. It's not a winning strategy. Too much asking without providing a good reason for support will eventually turn people off. Use a mix of observation, opinion and support requests for best results.
Having a well-defined (and liked) brand helps your message cut through the online clutter. That ability to get attention from your followers will be critical when the time comes to get out the vote.
In the end, voters aren't just casting a ballot for your policies – they are making a statement for or against your particular brand. So make it the best one that you can!
Strong political branding can help you win your election. Maintain that brand throughout your campaign – and keep it going even after Election Day.
We have designed logos for hundreds of campaigns for our Online Candidate political campaign website clients. We now offer Candidate Print Packages as a stand-alone service.
«
Are You Voting Next Week?
How To Launch Your Political Campaign Website
»