Social media has changed the way politicians communicate with voters. Candidates can interact with voters on a more personal level, which has helped them connect and build trust.
Through videos, images, and posts, campaigns can use social media to make announcements, answer questions, or respond to criticism. Social interaction has become an important element of political campaign marketing.
Starting out, knowing the ins and outs of online networking can be a bit daunting. Here are some tips for starting and running your social media political campaign.
Start early and start small
While you should build your online presence as early as possible, you'll want to start small with social media. Signing up for Twitter, Facebook, Instagram, and every other social network you can find is a recipe for disaster. Building an audience for multiple social sites is hard work, so it's best to start by only tackling a few at first.
As you get more comfortable with your initial platforms, consider expanding to additional platforms.
Make sure you choose a good handle for your social media platforms. They should be short and easy to remember.
Verify your campaign for advertising
Political campaigns can benefit from a variety of features that Facebook offers. However, many political candidates make the mistake of using Facebook as if it were a personal account and neglect the power of advertising on the platform.
There are many types of Facebook ads to choose from when promoting your message or campaign. You promote your message through an ad on a user's timeline or in a sponsored post that will show up in their newsfeed.
Facebook requires verification if you want to run political advertising through the platform. Being authorized means that others can see your ads and your ad budget for your account. Even if you do not plan on running any advertising, it's a good idea to verify yourself and become authorized. Learn more about Facebook ad authorization.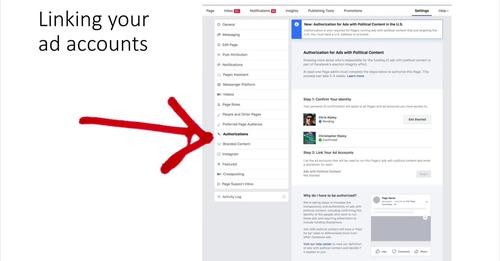 Use video to engage the public
Creating video today is easier than ever. Anyone with a smart phone can record and even edit video on the go. Live streaming is more popular than ever through services like Facebook Live.
Live streaming can be a great way for candidates to address local issues. Besides the Facebook Live platform, YouTube Live and even Tiktok are becoming increasingly popular with voters. You can use these platforms to provide insight on issues and connect with citizens.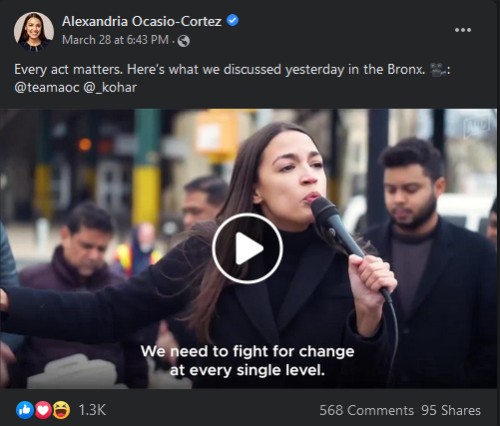 Create visual content for more attention
Visual content, such as infographics, charts, and text-based memes, are more likely to be shared than text-based posts. They also have the potential for more visual engagement because they are simple to understand. See what other campaigns are doing for examples.
There are many types of visual content. Infographics are a popular format that brands use on social media. A good infographic is informative, well-designed, and visually appealing. They can be shared on social media with a click of the button or copied into an email with ease.
Good visuals should be part of your overall content strategy. Online tools such as Canva make it easy to create these types of graphics.
Add widgets to promote your content
Put social network widgets on your campaign website to highlight your latest posts. The best place to attract new social followers is through your own site. Consider adding links to your website and social media accounts to your email signature.
Facebook and Twitter social media widgets can be added to your Online Candidate website with only a link. Look under the Tools and Widgets section in your site admin.
Use social to fuel your political fundraising
Social media has become a crucial fundraising tool for political candidates. Facebook ads have been a part of digital marketing for some time now. Candidates have capitalized on this by running Facebook ads to raise money.
Through the Facebook Ad Library, anyone can search and see what other campaigns are spending on the platform. The Ad Library shows information about the date, time, target audience, budget, and more for any given political ad. Use this tool to see how much your competitors are spending on Facebook ads.
Take advantage of the 'pinned post' spot to promote your donation page. You can request donations through your posts, but no one wants to see endless requests for money. Make sure your fundraising efforts are just part of your overall news and updates.
Don't go it alone
Partner with influential people and organizations that share your political positions. They can share your posts with their own followers. This can help your message reach a wider audience. In addition, don't overlook your own followers, and be sure to ask them to share specific content as well.
Don't feed the trolls
Unfortunately, trolling and harassment are common on social media. It is inevitable that your posts will be critiqued and commented on. Trolls exist everywhere, from internet forums to social media. Political content is a prime target. The best you can do is to not feed into their harassment and negativity. Most people's instinct will be to fight fire with fire.
Under the First Amendment, the government cannot restrict people from speaking publicly. This means that public officials cannot block people on social media. There has been debate about whether this tactic is ethical or legal, as social media is considered a public forum.
To deal with trolls, have supporters report inappropriate posts. In other cases, try to move discussions to direct or private messages. Keep in mind that anything you say, private or not, can be captured and reposted elsewhere.
Try to be kind and respectful to those who disagree, even when it's difficult.
Don't sweat the numbers
"The journey of a million followers begins with the first like." Sure, it's great to have a high number of followers, but it's better to have a smaller number of interested ones. More than a few politicians have artificially boosted their follower numbers. It's not that hard to do. In the end, though, "bots" don't vote – only people do.
Most candidates today use social media as a tool for political campaigning. They use it to generate awareness, promote it, and persuade voters. Social media can help politicians connect with people who may not be interested in politics but might become interested if they know what the candidate has to say about certain topics or issues.
Have you considered using social media yet? How are you currently reaching voters where they are discussing your local issues? Start today and explore how to engage them across those channels.
For more campaign tips and strategies, check out our book, Running for Office as an Online Candidate.

«
7 Ways to Ruin a Campaign Website
7 Reasons Why Your Political Campaign Needs A Google Account
»
Tags: campaign promotion, facebook, political social networking, twitter