Campaign yard signs are an important element in political campaigning. Over time, a single campaign sign can be seen by hundreds or even thousands of people. Multiply that effect by the total number of signs promoting a campaign, and you have a powerful way to build candidate name recognition.
Key Takeaways
Have your political logo created before you order campaign yard signs.
Keep your campaign sign layouts clean and limit the number of colors used.
Don't wait until the last minute to order yard signs. Printers are busy during election season.
Consider creating your logo early in the campaign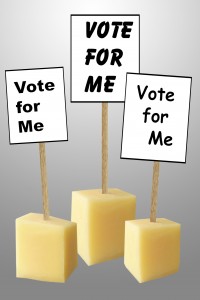 A good part of your yard sign will be taken up by your campaign logo. A logo is an important part of a political campaign yard sign because it helps people recognize who you are and what you represent. It also helps people remember your name more easily when they see it again in the future.
Having your logo created by a professional who is familiar with printing will make it easier when it comes to printing. The original graphic files must be in a print format, not a web image format. In the design, use a block-style font. Script is harder to read, especially when driving by. Select your colors early on. If your logo has many colors or uses a color gradient, it will make printing your signs more expensive.
Custom website design packages from Online Candidate come with a logo design, and we can give you the original, high-resolution files.
Generally, the candidate's name should be the largest element on the sign. The office sought can also be included.
Tips for designing your campaign yard signs
Do not put too much information on the sign: They are generally read by motorists passing by. Text should be large enough to read from a distance. At best, you have only a few seconds to relay your message. The phrases "re-elect" and "vote for" are basically redundant. Stick to a simple, clear message that conveys your campaign's main objectives and values.
Consider your color scheme: This will increase the impact of the sign. Red, white, and blue are traditional favorites. Other combos of color such as black and red or blue and yellow can work well, too.
Don't make your yard signs too small: They will be harder to notice and read, and they will give the impression that your campaign itself is "small." A typical yard sign is 12″ x 24″, but going for 18″ x 24″ or larger signs can produce more impact. Consider the location of the sign and make sure the size of the sign is appropriate for the area.

Utilize the right materials: Choose durable materials that can withstand the elements and are easy to install. Corrugated plastic or aluminum signs are popular choices because they are lightweight, weather-resistant, and long-lasting.
Avoid using photographs: Photos often don't reproduce well on smaller signs.
Make your signs match the look and feel of your campaign literature, including your fliers, brochures, and the design of your political website.
Test the design: Before ordering a large number of yard signs, consider ordering a small test batch to gauge the visibility and effectiveness of the design. This can help you make necessary adjustments before ordering a large quantity.
Don't wait until the last minute to order signs. Printers get busy during election season, and it's often first-come, first-serve. You don't want a delay in getting your printed materials. Put your orders in as early as you can.
There are several types of yard signs that are typically used, each with their own advantages and weaknesses. Your campaign's unique needs should guide your choice of sign type(s).
Is there an alternative to printed signs?
In addition to traditional printed yard signs, homemade political yard signs are useful for small to medium-sized campaigns. They are generally larger, and they can be used to promote a specific message or fight back against a negative attack. With larger text sizes available, be sure that even your larger signs are clearly readable from a distance.
Put a plan together and have volunteers ready to deploy when the signs arrive in the mail. Organize the routes and placements for your signs. You will need space to assemble your signs and stakes. They will take time to assemble. Have volunteers make the deliveries.
When you are ready to put out your signs, put the bulk of them out in a short period of time, such as over a weekend. The impact will be greater than putting them up gradually.
Signage is an inexpensive way to advertise. A good yard sign campaign will get a candidate's name before voters. Name recognition is a strong factor behind many election victories, so you want to make as strong and positive an impression as possible.
By following these tips, you can create a well-designed, effective yard sign that will help you reach voters and positively promote your campaign.
Related: Guide: When Is The Best Time To Order Campaign Signage?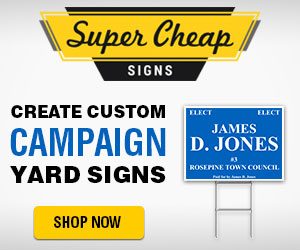 10% Off on Super Cheap Signs. Use Code: ONLCAN10
«
5 Myths About Political Candidate Websites
Twitter Tips for Political Campaigns
»
Tags: campaign promotion, political advertising, signage