Yard signs have long been a mainstay for political campaigns. They show support for a candidate or cause. When you see lawn signs blanketing your neighborhood, you know that Election Day is coming soon.
Key Takeaways
The most common sign dimensions are 18 X 24 inches, 12″ x 18″, 24" x 36",  and 48"H x 96"W.
A candidate name and office, along with a simple graphic element makes the best design.
Use one or two fonts and keep the colors to a minimum.
The best time to order is a few months before you think you'll need them.
What size are political yard signs?
Political signs come in a variety of sizes and shapes. The most common sign dimensions are typically 18 X 24 inches rectangular. 12″ x 18″, 24" x 36",  and 48"H x 96"W are also common sign sizes. Large campaign signs can have sides as big as 4 feet tall by 8 feet wide. They can be printed on one or two sides with one or more colors. For lawn signs, you'll want most of them printed on two sides so they can be seen from both directions.
Wire H stakes to hold yard signs are usually available 10 inches wide x 24 inches tall. Some stakes are 30 inches tall. The wires can come in different gauges, depending on their durability.
The cost of signage depends on the type of signs you order, the needs of your campaign, and your budget. New technologies allow many printers to manufacture fewer signs per order while still being affordable.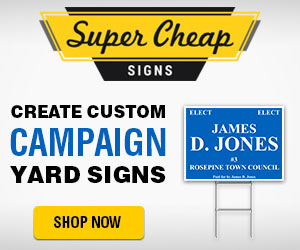 Besides the candidate name and elected position, what other elements should a yard sign include?
Just stick to the name and elected position. Actually, we see a lot of first-time candidates who want to put a lot of extra stuff on their sign. The fact is, name and office, along with one very simple graphic element makes the best design. It's the old "KISS" theory: Keep It Short and Simple. There's no reason to have five or six different things going on. You lose the viewer at that point. Remember, these are signs, not palm cards or brochures. People are driving by the signs rapidly; they just need to see the candidate's name or logo.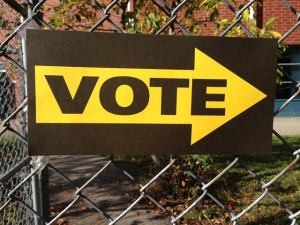 What design tips can make a sign more effective?
First, use common typefaces that are familiar. A candidate may think that will make the design boring. But, common typefaces are used often for a reason – they work. Political logos are often designed with a bold, sans-serif font. They stand out and are easy to read.
Next, use just one color, maybe two colors, but only if you have the budget. Large campaigns use one color all the time. If it's a good design, one color is enough. Using three or more colors is a waste of money and doesn't actually achieve what politicians think it will achieve. Adding a photo background will make your sign very difficult to read.
The third tip is to use a graphic element. Here's where it gets tricky. Often times a candidate will put "Vote For" along with a few stars, a couple lines, and then an image or picture. Usually that's just clutter and only takes away from the main purpose – name recognition. Incorporating one simple but original graphic element isn't easy, but if it's done right, your sign will look great – and most importantly, people will remember it.
Reducing visual blindness along the road
After a while, voters driving by the same signs at the same locations tend to not pay attention to the campaign lawn signs. Campaigns can shake things up by exchanging a small sign for a large sign at an existing location.
Another useful strategy is to place some of your bigger election signs next to your competitor's small signs. It has the psychological effect of making the candidate with the larger sign look more important.
How many signs should your campaign purchase?
This is the hardest question to answer besides, "Will I win?" You have to have enough exposure taken seriously. That means having enough good coverage with your voters. It's hard to create a ratio of signs to voters since each race is different. You also need signs for people to take home from your events and neighborhood meetings. You can also set signs outside your home so people can stop by and pick one up without having to call or make arrangements.
Having said all that, anyone who's serious can easily distribute over a hundred signs in a week. The more signs you have up, the better.
Related: The Best Time to Order Campaign Yard Signs
What type of sign material is recommended?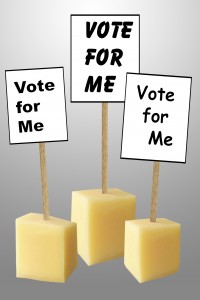 Just like everything else in politics, everyone has an opinion about what material should be used for campaign signs.
There are basically three types of yard signs: plastic bag, corrugated plastic, and double-sided cardboard.
Bag signs are easy to work with, but they don't make sense for smaller campaigns. Corrugated plastic signs ship well and are good for states with a lot of bad weather. They can also be stored and reused over multiple election cycles.
Corrugated plastic sign prices have come down significantly over the years. They are durable and hold up in the elements.
Double-sided paper signs are inexpensive and versatile. They are printed on one side, folded over and stapled to the wood stake. However, they don't hold up very well in the elements. You can cut paper signs in half and put them in the windows of cars, businesses or apartments.
In the end, you should choose the materials that work best for your needs.
What should I look for when selecting a printer?
You'll want a sign printer who is professional and friendly. If your first contact with them isn't great, it's only going to go downhill from there. The best place to order from is a company that has a history of working with political campaigns and has a good reputation.
How does the cost of signage vary based on the size and type of signs ordered?
The cost of signage can vary based on the size and type of signs ordered. Generally, larger election signs will be more expensive than smaller ones due to the increased material and printing costs. The type of sign material can also affect the overall cost. For instance, corrugated plastic signs tend to be more durable but may come at a higher price compared to double-sided cardboard signs. It's recommended to request quotes from different sign printers or suppliers to compare prices and determine the best option for your campaign budget.
How can placing larger signs next to smaller competitor signs impact perception?
Placing larger signs next to smaller competitor signs can have an interesting impact on perception! It's like a visual trick that can influence how people perceive the importance and prominence of a candidate. When a larger sign is strategically placed alongside smaller signs, it tends to draw more attention and command a stronger presence in the viewer's mind. It creates a sense of visual dominance, making the candidate with the larger sign appear more significant and influential.
Can I make my own signs to use?
Sure! There are plenty of campaigns that make their own yard signs and use them along with printed signs. Some candidates even design and create their own signage from scratch.
Related: DIY Homemade Political Yard Signs
When should campaign signs be purchased?
The closer you get to Election Day, the busier sign printers become. The best time to start the ordering process is a few months before you think you'll need them. Normal production is about 5 days. Shipping is anywhere between 1 and 4 days, so give yourself a minimum of at least two weeks. Having that extra time makes it possible to get your questions answered, iron out any issues, and get your order fulfilled without problems.
Are there any restrictions on the design or placement of political signs imposed by local laws?
There are different rules and restrictions on political signs depending on the country, state, or local government the sign is in. Here are some specific examples from the United States:
Size restrictions: How big can you go? Some cities or states place specific size restrictions on political signs. For example, in Houston, Texas, political signs are not allowed to exceed 8 square feet in size.
Location restrictions: Where you place a sign can be regulated. In California, political signs cannot be placed in the right-of-way of a highway or within 660 feet of an election polling place.
Content restrictions: There may be freedom of speech, but it might not apply to signage. For instance, political signs in the state of Maine can't say anything that isn't true or that is hurtful or defamatory.
Time restrictions: Many states or cities place limits on when you can place and when you must remove signs. In Illinois, political signs can't be placed until 90 days before an election, and they have to be taken down within 10 days after the election.
Aesthetic restrictions: You may even run into limits as to how your sign can look. For instance, Newport Beach, California, allows only up to three signs on a residential property.
And don't forget – after the election, you are going to need to dispose of the signs.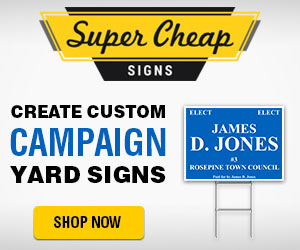 «
Preparing for Candidate Debates
Great Uses For Old Campaign Signs
»
Tags: campaign promotion, signage