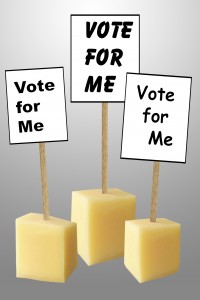 Campaign yard signs are a valuable part of any election strategy. Even if you are not a fan of yard signs, they are a must-have if you are a political candidate. Your opponents will be using them, so you don't want to be left out.
There are different opinions as to to when is the best time to put up your signs. Generally, you should put up your campaign signs between four to eight weeks before the primary or general election. This allows for enough time to build name recognition with voters. If you put your signs up too early, they may lose impact as voters become 'blind' to them. If you put campaign signs up too late, they may not get the exposure you desire.
Of course, before you can display your signs, you need to order them.
Key Takeaways
Start the ordering process for your campaign yard signs about two months before you need them.
Professionals recommend that you put up campaign signs four to eight weeks ahead of a primary or general election.
Plastic or Play-bag Signs are affordable, cheap and easy to ship. Corrugated plastic signs hold up well against the elements.
Putting a 'rush' on a sign printing job will just add stress and cost to the project.
When is the best time to order yard signs?
Ideally, you should start the ordering process about two months before you need them. Having your yard signs ready to go early will help avoid a lot of logistical problems. Normal sign production is about 5 days and shipping time can be anywhere between 1 to 4 days. To be safe you should give yourself a minimum of at least two weeks. That way you will have enough time to put them out.
Order your campaign signage at least two months before you need it. Don't wait until two weeks before Election Day to order.
Whatever you do, don't put off ordering until the last minute. Putting a 'rush' on a printing job will just add stress and cost to the project. It may also lead to unintended errors. It's better to get your signs designed and ordered early. Then you will have the signs ready to put out when you need them.
You may want to place a few orders throughout the season or as you can afford them. Start with some standard 18×24 inch yard signs. Most printers allow for batches as small as 50. As people request your signs, you'll get an idea of how many more you need. As the campaign goes on, you may want to buy more and larger signs, like 4×8 foot road signs or billboards.
Yard signs are part of your #political campaign's branding. Make the most of them. http://ow.ly/wYTS30gBlRy
Click To Tweet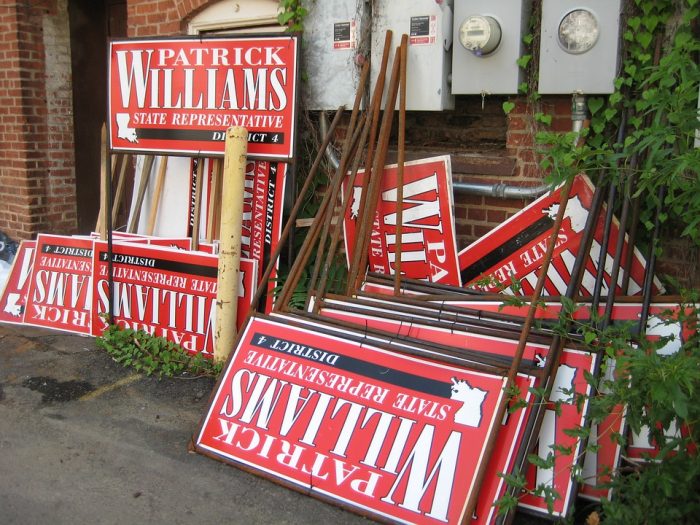 What type of yard signs should you order?
Candidates and organizations often struggle with the type of sign to purchase. There are basically three types of yard signs for political campaigns: plastic bag, corrugated plastic, and double-sided cardboard.
Here are the pros and cons each type of sign:

Plastic or Play-bag Signs are affordable, cheap and easy to ship. They are basically plastic sleeves that can be slipped over U-shaped wires. The down side is that they tend to sag over time on their frames. And they do not work well as wall signs.
Corrugated Plastic (poly coated) Signs holds up well against the elements and are easy to handle. They are most cost effective if a candidate runs often and is committed to the same message and look.  They generally slide right over their metal frame. However, a light colored sign might not be entirely opaque. They tend to be a bit more expensive than other types of signs. They are also the most easily stolen.
Double-Sided Cardboard Signs come in all shapes and sizes. They are double-sided and are stapled or glued to their frames. They easily double as wall signs. However, they don't hold up as well in rough weather as plastic signs.
Your choice should be determined by your priorities such as price, quantity and re-usability.
Tips for designing effective political signs
Over time, a single campaign sign can be seen by hundreds or even thousands of people. Multiply that effect by the total number of yard signs promoting a campaign, and you have a powerful way to build candidate name recognition. Since all advertising is an extension of your brand, you'll want your signs to look professional.
Here are some design tips to keep in mind:
Consider creating a campaign logo early. Stick with a single logo. You may want to go with a block-style font, as script is harder to read. Use your campaign logo in your brochures and mailers to build a consistent 'brand'.
Generally, the candidate's last name should be the largest element. The office running for should also be included, but can be somewhat smaller.
Do not put too much information on the sign. They are generally read by motorists passing by. At best, you have only a few seconds to relay your message. Phrases 'Re-Elect' and 'Vote For' are basically redundant.
Consider using at least two colors. This will increase the impact of the sign. Red, white and blue are traditional favorites. Other combos of color such as black and red or blue and yellow can work well, too.
Don't make your yard signs too small. A typical yard sign is 12" x 24", but going for 18" x 24" or larger signs can produce more impact.
What is the visual impact?
You will only have a few seconds of a viewer's attention, so the key to a good political sign content is for it to stand out. It should contain a short, memorable phrase with the candidate's name and office like "Vote for Smith" or "Smith for Judge".
Your signs should be readable and have high contrast of dark and light. Most political logos are readable in this way. Your sign design should match your other campaign materials such as your brochures and campaign website. Yard signs are part of your campaign's branding, so it's not a place to get overly creative.
When should you put up your campaign signs?
Many professionals recommend that you put up your campaign signs four to eight weeks ahead of the primaries or general election. If you display your campaign signs too early, they may lose their effectiveness and not have as much impact. If you put them up too late in the season, you will miss out on potential exposure and not have as much of an effect on your election chances.
You can coordinate putting out signs with your other advertising to help maximize voter impact.
When putting out your signage, follow the rules
Before you put up any yard signs, check your local election rules on where and when you can put out campaign signs. There may be restrictions on sizes, as well. You should also know when your signs must be taken down. (It's usually within a week of Election Day.)
Check with your election board about sign placement near polling locations on Election Day. Some districts allow for signs, while others don't. If your district allows signs, there will be specific regulations as to the size and distance from the polling place. You will also want to have enough signs available to place on Election Day.
Whether you are campaigning for mayor, sheriff, judge, school board member or even a state senator, a smart campaign sign strategy will boost your chances of victory.
How to dispose of old campaign signs
Once the election is over, the campaign signs remain. Here are ways to get rid of your old signage.
Recycle your cardboard signs. Wire frames can be recycled or used for other purposes.
Plastic signs can be painted and reused for other purposes.
If your signs are not date-specific, they can saved for the next election.
While we're on the subject of recycling, be sure to recycle all of your campaign's print material, except for the material that you might want to keep in a swipe file.
Related posts:
Super Cheap Signs currently ships over 10,000 yard signs, banners and other printing products to 50 states every week. If you are an Online Candidate website client, we can provide your original hi-res website graphics to make your signage and website look seamless. Learn more.
«
The Importance of Using Checklists in Campaigns
Winning Tips For Your Local Political Campaign
»
Tags: signage