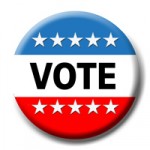 Candidates often struggle with the type of sign to purchase. There are basically three types of yard signs for political campaigns: plastic bag, corrugated plastic, and double-sided cardboard.
Here are the pros and cons of each different sign type:

Plastic or Play-bag Yard Signs are affordable, cheap and easy to ship. They are basically plastic sleeves that can be slipped over U-shaped wires. The down side is that they tend to sag over time and do not work well as wall signs.
Corrugated Plastic (poly coated) Signs holds up well through bad weather and are easy to handle. They are most cost effective if a candidate runs often and is committed to the same message and look.  They generally slide right over their metal frame. However, a light colored sign might not be entirely opaque. They tend to be a bit more expensive than other types of signs. They are also the most easily stolen.
Double-Sided Cardboard Signs come in all shapes and sizes. They are double-sided and are stapled or glued to their frames. They easily double as wall signs. However, they don't hold up as well in rough weather as plastic signs.
Selecting the type of sign for your campaign should be determined by your priorities such as price, quantity and re-usability. An experienced sign manufacturer can help you determine what is best for you.
Related posts:

10% Off on Super Cheap Signs. Use Code: ONLCAN10
«
Online Candidate Now Provides Political Brochure Templates
How To Use Authoritative Linking for Your Campaign
»