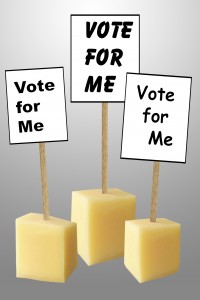 Homemade political signs can be useful for small to medium-sized campaigns. They are often used to supplement tradition printed yard signs. Making them requires little more than some materials, paint, stencils and time.
Most campaigns purchase the bulk of their yard signs. However, local campaigns with a limited budget may not have funds for purchasing a large number of signs.
Most signs created as DIY efforts are done in limited numbers. It's difficult, but not impossible to mass produce your own yard signs. With some cardboard, a stencil and spray paint, you can make your own campaign signs. For your sign stakes, you can either make or purchase them.
Elements of a DIY political sign
All signage have common elements that you want to include:
Logo: You may or may not have a logo. If you can add a copy of the logo, do so. If not, stencil in your name and office as large as can fit.
Copy: Keep additional copy to a minimum. Depending on the size of the sign, you might be able to add a slogan or website domain.
Colors: Keep your color scheme simple to only a color or two. More colors or photographs on a sign make it hard to read, especially for drivers on the road.
Borders: A simple design element is to border the edge of the sign with a solid color.
Size: Larger signs are easier to read and will stand out from others. You may be limited in how large a sign you can publicly post, even on private property.
Advantages to making your own campaign signs:
1) They give your campaign a more 'grassroots' look. Anyone can have hundreds of yard signs printed up, but with homemade signs, people can tell that actual people took real time in supporting the candidate.
2) They can be made in any size. Homemade signs are not constrained by the typical printed yard sign sizes. But before you decide to make giant billboard-sized signs, check your local laws to find out how large they can be.
3) They can break up the monotony. As Election Day approaches, voters become blind to the myriad political signs dotting the landscape. Homemade signs, especially when deployed close to Election Day, will definitely stand out.
4) They can rapidly  spread a message. One clever use of signs is to have a number of them in sequence create a message for drivers to read. This technique works well on straight roads with a low speed limit. Simply split up your message into a few words and post them on large, readable signs in the order you want them read. For example, "Want Lower Taxes? …. Smarter Growth? … Better Schools? … Vote Smith for Mayor!" These can be placed on multiple yards over a quarter mile or more to be read by everyone who passes.
How do you make your own political campaign yard signs?
Making a do it yourself political campaign yard sign is a great way to show support for a candidate, political party, or to raise awareness about an issue. There are many ways to make signs of different sizes and shapes.
Here is a list of materials that you will need to make your own signs:
PVC or Styrofoam board
Vinyl backing, if you are making a banner or a sign that hangs
Marker pens or paint
Ruler
Adhesive
Stencils
Stakes, if you are creating yard signs
There are even kits that you can purchase to create your own signs. The cost varies depending on the size, material, and complexity of the design. They can range from $1 to $5 each.
One downside to DIY signs is that they can make your campaign look 'amateurish', especially if the signs are crudely designed. They can also signal that you could not raise enough money to purchase signs from a vendor.
Like traditional yard signs, homemade election signage should be readable and get the message across in a few seconds.
And as always, seek permission before placing any signs on private property.
Related: Common Campaign Sign Questions
Super Cheap Signs currently ships over 10,000 yard signs, banners and other printing products to 50 states every week. If you are an Online Candidate website client, we can provide your original hi-res website graphics to make your signage and website look seamless.
«
Never Turn Down a Campaign Volunteer
Local Campaign Letters to the Editor
»
Tags: political advertising, signage