Here's a reminder to make sure that you have the proper rights and permission for anything you use for your political campaign. The Internet makes it easy to lift language or text from other sources without attribution – and makes it just as easy to be discovered.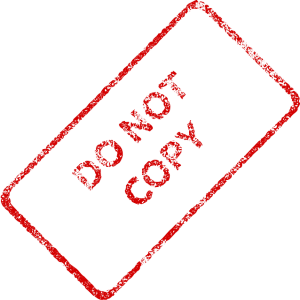 Whether you are running for local office or aspiring to a higher position, copying material without attribution can get you into trouble. A number of previous US presidential candidates have dealt with accusations of plagiarism, including Rand Paul and Scott Walker.
The issue can become a distraction, forcing a campaign to defend itself and throwing it off-message.
Sometimes, it can cost a candidate the election.
When Lt. Gov. John Walsh was appointed as interim senator  for Sen. Max Baucus in 2014, it was discovered that Walsh's master's thesis from the United States Army War College had been partially plagiarized. The scandal eventually led to him dropping out of the race.
Even Joe Biden has had his share of plagiarism issues. While running for president in 1987, Senator Biden was accused of lifting lines from a speech by a British Labour Party leader. Later that year he was accused of lifting content from other speeches, including a speech from former President John Kennedy. It was also reported that Biden was forced to retake a class at the Syracuse University College of Law in 1965 after using law review material without attribution.
The Senator wound up as US Vice President under Barack Obama and, eventually, President.
It's not just copy that can be swiped. Even graphic designers can get you into trouble.
Take this story from a few years back as an example of how swiping a design can draw all the wrong attention.
Oregon candidate pulls look-alike logo
Libertarian Senate candidate Mark Delphine's campaign site featured a logo showing an American flag wrapped around a star to form a D-shape, similar to the Blue Jackets logo which shows the flag of Ohio wrapped around a star in the opposite direction. Read more…
Here is the logo in question. The design was donated to the campaign.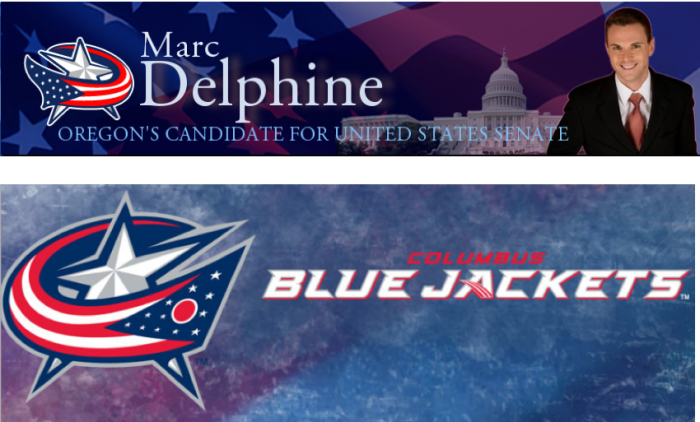 What do you think? Are they similar?
Free or paid, all campaign material should either be original, licensed or used with explicit permission. This applies not only to graphics, but also to all content, including photographs and slogans.
Taking liberties with your campaign print material
When putting together your political campaign brochures, political website, or other material, it's important to keep some guidelines in place. While some candidates create all their own material, other campaigns outsource the work or leave it to members of the campaign staff. No matter who does the work, there are some things to keep in mind that will help keep you out of trouble.
Here are a few things to watch out for:
Use only your own or licensed images and photos
Be careful with the images you use in your brochures, palm cards or any other print material. The best images are those that are taken by the candidate or campaign. Be sure to obtain prior permission from any copyright owner if you use such material in your campaign brochures. If you use a designer, be sure that they obtain proper permission for any images or design elements they incorporate into your brochures.
Photographers who infringe may be required to compensate for economic loss. From a legal standpoint, most lawsuits are filed against the person who uses a photograph rather than against the photographer.
In some cases, even using a logo or state flag can be a violation of election rules.
Don't feature other people or places without permission
Be sure that anyone that is displayed or photographed in your campaign literature has been notified and given permission. Just because you had your picture taken with members of a local organization does not mean they will appreciate appearing in a political advertisement. Even for 'friendly' individuals or groups, never assume permission – always ask for it.
Don't lift copy without acknowledging sources
Be careful not to have your writers lift, even inadvertently, copy or text from other sources without attribution. Taking liberties by plagiarizing material can prove embarrassing if discovered. Worse case, you could get into legal trouble. When in doubt, cite your sources.
Use proper disclosures where required
State or federal law may require specific disclosures for your campaign communication. Disclaimers for political campaign advertising are required by federal or state law in order to protect the public from false and misleading information. They may include the name of the person or organization that paid for, authorized, solicited, directed, supervised, or had responsibility for preparing the advertisement.
The use of plagiarism in political campaigns can be seen as a form of fraud. Any time you use someone else's work, you are essentially cheating. In the context of a political campaign, it is an unethical and dishonest practice. Not only can it tarnish the candidate's image, but it reflects on the candidate's ability to perform well in their current or future elected positions.
Running for office? Our Regular and Enhanced Political Websites includes a custom-designed header, logo and color design – and we provide high-res version of your logo or header on request – for FREE. 
«
Overcoming Online Fundraising Naysayers
Read Our Interview on WebsitePlanet.com
»
Tags: brochures, campaign writing, messaging, photos