Online Candidate, a provider of website solutions for political candidates and campaigns, announces the launch of its political AI tool suite to OnlineCandidateResources.com.
In today's fast-paced digital landscape, effective communication is paramount to the success of any political campaign. Recognizing the need for streamlined and impactful messaging, Online Candidate has leveraged the power of artificial intelligence to develop cutting-edge tools that will enable candidates to save time, raise more funds, and enhance their digital campaigns.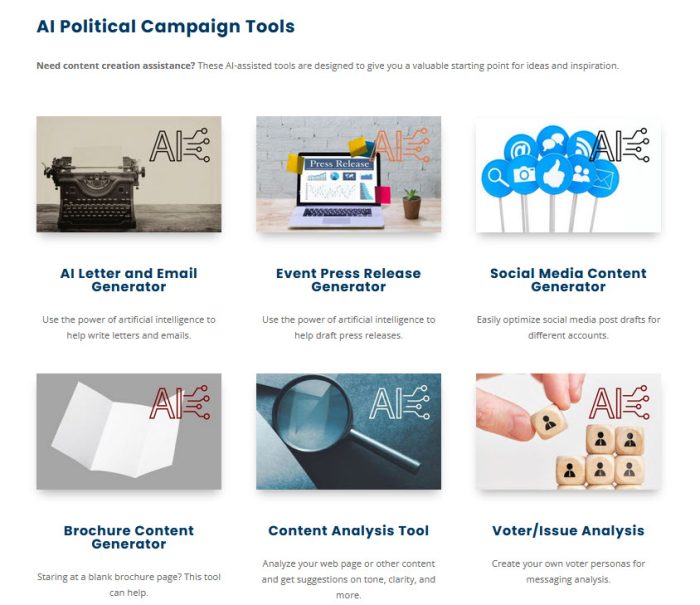 The AI Political Letter Generator provides users with automated content assistance, producing high-quality drafts that effectively conveys the candidate's vision. Whether it's soliciting donations, mobilizing volunteers, or connecting with voters, the generator empowers candidates to communicate with clarity, precision, and persuasion.
Online Candidate is also proud to introduce the AI Event Text Generator. This advanced tool assists in creating engaging and informative event descriptions and press releases. By leveraging the power of AI, candidates can draft copy that builds anticipation, enhances attendance, and attracts media coverage.
Other tools include:
"We are excited to launch these state-of-the-art AI tools that will significantly enhance the communication capabilities of political campaigns," said Shane Daley, Digital Marketing Director of Online Candidate. "Our mission has always been to empower candidates with the resources they need to succeed in the digital age. With these new tools, we are taking a step towards helping local candidates save time and effort creating content."
Online Candidate provides free access for its website clients. Non-clients can also benefit from these  tools by subscribing to the site, which grants access to the site's comprehensive suite of resources.
To learn more about Online Candidate Resources and take advantage of their political AI tools, visit https://www.onlinecandidateresources.com.
About Us: Online Candidate provides affordable political websites, hosting, and marketing services.
«
3 Online Campaigning Facts and Myths
Introducing Our New Website Maintenance Services
»
Tags: artificial intelligence, campaign writing