Running for any political position is a challenge, but some are easier than others. You may not have much political experience, or have an unconventional background. But if you know your community, just your local experiences be advantageous.
You might be wondering where to start your political career. Many first-time candidates, especially those from diverse backgrounds, don't know how to start – or even know what opportunities exist.
Local political positions typically have less responsibility than national or state level elected positions. Local offices may include positions such as mayor, councilman/woman, city council member, etc. Political offices at this level require little to no experience but come with low pay and little job security.
National and federal offices have more responsibility and often require higher levels of education like an undergraduate degree in political science or law.
So, what local office should you run for? If you are looking for an elected position that is easy to win, you probably want to target one that does not require a large and expensive campaign.

What government positions are available?
Local government seats are often easier to campaign for and win than state or federal offices. However, they can be just as important to the lives and welfare of constituents. Here are some offices that you may want to consider. The titles and duties vary depending on your state or municipality.
If you are looking to start a career of public service, consider running for these local government positions:
Local municipal governments are responsible for the governance of cities, town and villages. They oversee city-wide developments that affect their citizens and manage local services like schools, water supply, sanitation etc. City and town government create local laws and regulations to improve economic development to make their municipalities more desirable to residents, taxpayers and businesses. They also provide public funding to maintain civic infrastructure, which includes roads, bridges, parks, and recreational centers.
Local Elected Officials Include:
Mayor
City Council
At-Large Councilman or Councilwoman
Town Council
Alderman
Selectman
Precinct Delegate
Assessor
County governments are in charge of enforcing county and state laws and regulations. They provide public safety services to the people living in the county, including health care, sheriff and police protection, county courts, roads and highway maintenance. The county is also responsible for registration and authentication of vital events such as birth, marriage, death records and voter registration and election administration. They are also responsible for issuing certified copies of documents to individuals or organizations, when requested.
County Elected Officials Include:
County Executive
County Legislature / County Council
District Attorney
Coroner/Medical Examiner
Auditor
Sheriff
Auditor
Assessor
If you want to know more about your local elected officials, visit https://www.usa.gov/elected-officials. The site will provide you with the names and contact information for Federal, state and local elected officials, as well as their districts and population size.
One advantage of starting with a local position is that your district may be small enough for you to go door-to-door. This allows you to speak directly to voters and make personal contact. Many voters never have a politician pay them a visit. That personal touch provides a strong first impression and can help sway opinion.
For example, we knew a person in our town who had very strong opinions about a somewhat obscure topic. Fueled by this issue, she jumped into the political ring and ran for mayor. Rather than starting from a council position, she went for the top position in the village – and lost.
The next year she ran for an open board seat and lost.
A few years later, she ran again for the position of village justice. Again, she lost.
After failing to win her first election, her reputation took a hit. It was highly unlikely that she was going to win another local race going forward. Instead of continuing to run as a candidate, she might have accomplished her goals if she became involved in other ways…
Related:
Get appointed to a local board or commission
The easiest political offices to run for are those that do not require any campaigning at all.
Elected jobs are not the only way to start a political career. There are many public leadership positions that are filled by appointment, such as local boards and commissions.
There is often a need by local government to find qualified people to serve on boards. In many cases, you simply need to volunteer. Commissions and boards work on county or city issues and make recommendations directly to government officials and the public.
Types of local boards and commissions include:

School Board

Zoning Commission

Sewer Authority

Water District Boards
Advisory Boards
Planning Committees
Local Boards and Commissions Advisory Committees
Specialized Public Service Boards and Commissions, such as the Illinois State Toll Highway Authority or Chicago Transit Authority
Joining a local board is a terrific opportunity to get involved in your community. It can also introduce you to some new skills and teach you how the government works. You will be involved in running meetings, working with data, making public presentations, and writing reports and recommendations. It also involves learning more about various issues and the legislative process.
As a member, you'll also have some behind-the-scenes influence.
By being involved, you can build a network that can be useful when you make a move to elected office. You will also learn about how various constituencies must work together to achieve adversarial goals.

Best of all, even newcomers can make an impact. They can bring new ideas and energy that can shake up a board or commission that's always done things the same old way.
Running for non-partisan seats
Often an open, non-partisan seat is easier to run for in local municipal or district elections. You can avoid party identification and run on your own positions. Nonpartisan elections are held in many smaller cities, towns, and villages, where no political party is listed on the ballot. School boards, judicial positions and special board positions are typically non-partisan.

A lack of political opposition makes winning an election easy
The easiest elected offices are those where no one else is running. Winning an election when you are the only candidate on the ballot almost seems like cheating – but it isn't.
Incumbents who run unopposed in uncontested elections easily win term after term, even if they are unpopular. Sometimes there are times when no one runs at all for a position, leaving a vacancy. Those situations can offer an opportunity for someone offering a new voice to voters.
Maybe that person is you.
Who can help you decide which position is best?
You might want to talk to friends or family members who can tell you what type of elected position would be appropriate, given your skills and experience. Perhaps you know a local politician who can provide guidance or an endorsement.
If you're a member of a political party, get in touch with your local committee to get more information on possible positions that might be available. A party organization can provide access to voter demographics, historical data, e-mail and address lists. A strong party backing can help you get on the ballot, by providing resources to recruit volunteers, and promote yourself to the public.
Before diving into politics, be aware of the expectations and work required for the position you seek. There are resources available to help train new candidates in the basics of running a successful campaign. Take advantage of educational resources early, so you are familiar with the process involved in leadership, fundraising and voter contact.

The average person is not born with the skill set to be a politician. It takes a lot of hard work, dedication, and patience to get to that point.
Even if you decide that holding a political office is not right for you, there are other ways to get involved in your community. Consider joining a citizen board where you can help influence policy. Or you can work for a local organization or volunteer your time elsewhere.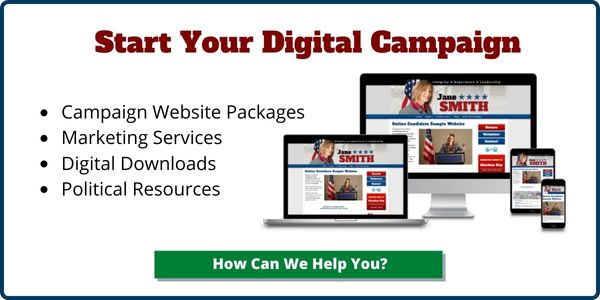 From political website design to marketing, Online Candidate provides services to help you get your digital campaign up and running.
«
A List of Our Best Sheriff Campaign Slogans
Political SEO Strategies for Campaigns and Candidates
»
Tags: begin campaign, local politics