A write-in campaign is a type of election in which people who are not on the ballot can nevertheless make themselves eligible to win by receiving enough valid write-in votes. Write-in campaigns are usually low-budget, grassroots efforts that take place in cases where the original candidate has either died, dropped out of the race, or ran unopposed.
It's not impossible to win an election as a write-in candidate, but the odds are long.
Write-ins tend to be more successful on a local or state level. There have only been a handful of congressional elections where a write-in candidate won a general election. It takes money and organization, the same things a regular campaign requires, only you don't have party backing. The tactic is more likely to succeed in down-ballot elections, where a write-in can secure a local primary win before succeeding in a general election.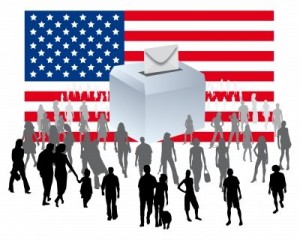 What is a write-in candidate?
A write-in candidate is a person who runs for office without being nominated by a political party. In order to be considered a write-in candidate, the individual must register to vote and have their name on the ballot.
Some states allow voters to write in any eligible person as a candidate, while other states require the write-in candidate to have registered with the state's secretary of state.
The role of write-ins in the election process
While write-in candidates have always been a part of the American political system, their presence became more pronounced in the early 2000s. In recent years, the "write-in vote" has become a fairly common strategy used by voters, as it can be a way to circumvent perceived problems with those who are running.
Write-Ins are often criticized for "wasting" the voter's time or not understanding the process. However, they can be a valuable asset in some circumstances – for example, when a widely-favored candidate has been overlooked by the parties. In these cases, voters can vote for their favorite candidate and give him/her the win.
A write-in candidate may not have much of a chance of winning an election, but they can influence people's opinions on important issues that will affect them in future elections.
Winning as a outsider is not easy
In order to win as a outsider, you need to stand out in the crowd and convince the voters that you're their best choice. A few things that can help with this:
Be authentic: Show your true colors and be yourself. This will help people connect with you and know what they can expect from you in the future.
Be genuine: If you're not being genuine, it will show through your speech and body language. People will see right through it and not take what you say seriously.
Be passionate: When it comes to winning as a outsider, passion is key! You need to be 100% invested in what you are doing if you want people to believe in your cause or campaign.
Be humble: Winning as a outsider is hard work
Be a good speaker
Have a strong social media presence
Provide detailed plans and ideas on how to solve problems
There are different laws around the US in regard to write in candidates, but there are a few commonalities. For example, proper spelling is almost always required. There is no one-size-fits-all rule when it comes to write-in candidates, so be sure to check out your state's guidelines before you get started.
There's often a lack of organization and support for write-in candidates. Don't assume that you can just ask for enough voters to simply write your name on the ballot.
Independent candidates frequently have more requirements than candidates from established parties. For example, they must often file a petition with the board of elections in order to have their names on the general election ballot. Some forgo this step and attempt to get voters to select them with alternate tactics.
What are 'sticker campaigns'?
A "sticker campaign" is an unofficial campaign tactic that originated in local elections. The stickers contain the candidate's name as it is registered to affix on the ballot in the area for write-ins. The voting sticker is only used to make marking the ballot paper easier. Voters can vote for any candidate by writing their name on the ballot. The rules for how or where stickers can possibly be used will vary by state and district.
The process of a write-in campaign
To start the campaign, you will need to draft your letter of intent and submit it to your local election office.
This is where you will include information about your candidacy, including your name, address, phone number, email address, and party affiliation. Of course, you'll also need to mention the position you are running for.
After this is done, you will need to get signatures from qualified voters in your precinct. This can be done by getting them to sign their names or by using a petition book. You should also make sure that whoever is signing the petition has read it first.
The steps for registering as a write-in candidate:
Announce your intention to run.
Fill out the necessary paperwork.
Make sure you have enough signatures on the petition.
Make sure you properly file for candidacy to get on the ballot.
Decide on a campaign strategy.
Execute that strategy and win your election!
Challenges you'll face
A regular political campaign is tough enough, even with a party's backing. Some of the challenges of running a write-in campaign are:
Fundraising challenges and building a network of viable donors.
The lack of promotion and advertising by the candidate.
The need to get volunteers to distribute yard signs, bumper stickers, and other promotional materials to supporters.
Difficulty finding volunteers to help with writing in votes.
The lack of coverage by traditional news outlets because they are entrenched in covering only one candidate or party candidates.
Voter turnout may be low, especially if the write-in candidate doesn't have much media coverage or funding.
The name of the candidate may be tricky, so write-in votes could be cast as misspellings.
There are several ways that you can get write-in support. You can do door-to-door canvassing, asking people to write in your name. You can put up signs to help spread the word. Even more importantly these days, you can now run a digital campaign and build support online by using a campaign website and online advertising.
Provide detailed instructions to voters
The most important part of write-in campaigns is informing the public how to cast a vote for you. Because voting for a write-in or sticker candidate is different than a typical vote, you must carefully inform voters exactly what they must do so their votes are considered valid. Some states will not count a vote if candidate's name is not spelled correctly. Even where the name is written or the sticker is placed on the ballot is critical to casting a proper vote.
With more states voting by mail, write-in campaigns are becoming more prevalent. This is why it's important to know the laws and rules – and to convey them properly to your supporters.
So, can you win as a write-in candidate?
Sometimes, a person can win an election without receiving the most votes. In a hotly contested election, there may be three or more candidates, and one who receives the most votes wins.
Sometimes a write-in candidate can even defeat an unopposed candidate. This is more likely to happen if the incumbent is unpopular.
Local elections can often be won by write-in candidates because so few people turn out to vote in them. (Though this trend may be reversing.)
But generally, it takes as much effort, if not more, to get enough voters to choose a candidate who is not on the ballot. It may not be easy, but never underestimate determination and planning.
Create an affordable website with Online Candidate. Every election cycle, we assist hundreds of local and grassroots campaigns.

«
A List of Our Best Mayor Campaign Slogans
So You Want To Run For State Legislature? Here's How To Get Started
»
Tags: get out the vote, voting