In any political campaign, the aim is to persuade the public to vote for the candidate by delivering a persuasive message.
Developing an effective political message can mean the difference between victory and defeat. A solid strategy can help shape the way voters see a candidate and their candidacy.
Key Takeaways:
A clear and concise message should always be the focus. Communicate with a strong and authentic voice.
A political candidate's personal history can be a meaningful way to connect with voters.
Authentic and consistent campaign messaging is most effective.
Create an elevator speech for your introduction to the voting public.
A core political message is the central point that a politician or party wants to get across to their supporters. This message is often about a vision for the future, patriotism and/or unity. Core messages are woven into all aspects of a campaign – from speeches, press releases, bumper stickers, text messages, and even the candidate's website.
Policy-based messages promote an idea or cause by describing it in detail. Character-based messages focus on a person's qualities and their suitability for office. Values-related messaging relates to whether a policy is in the best interest to society. (Sometimes value platforms can be more persuasive than policy platforms.)
Crucial elements to a successful campaign message
As you develop your campaign messaging, it's important to know what you plan to say. Strong, focused communication allows voters to easily understand your values and how you can help make their lives better.
Successful political communication strategies include three crucial elements:
1) It is clear and concise: Whether it's a stump speech, article or tweet, a clear and concise message should always be the focus.
2) It has an effective messenger: Whether you are running for congress or city council, the person delivering your message is as critical as the message itself. Good candidates listen to the needs of their communities and build strong relationships with those they represent. They communicate with a strong and authentic voice.
3) It includes a strong call to action: The most successful political campaigns have strong calls to action. One example of a call to action is the famous Reagan phrase, "It's morning again in America." Campaigns that inspire are more likely to win because they leave a lasting impact.
State short and state clear goals to hook voters. Voters will hear from any number of sources: a candidate, staff, external experts, or internal staff. The more authentic and consistent the message is to the audience – be young millennials or older voters – the more likely that message will resonate and be effective.
Develop a clear and compelling narrative
A narrative that embraces emotional storytelling is essential to any successful political campaign. An interesting narrative engages people and makes them feel something for your cause. This helps them feel as if they are invested in the outcome. Many candidates do this by using words like "together" and "us." Emphasize why it's good for them support you and not your opponent.
When crafting a compelling story, the narrative needs to be built around a vision and mission for the future. Rallying around a specific issue is often used to develop an emotional connection.
Finally, tie it all together with language that inspires supporters and encourages them to act.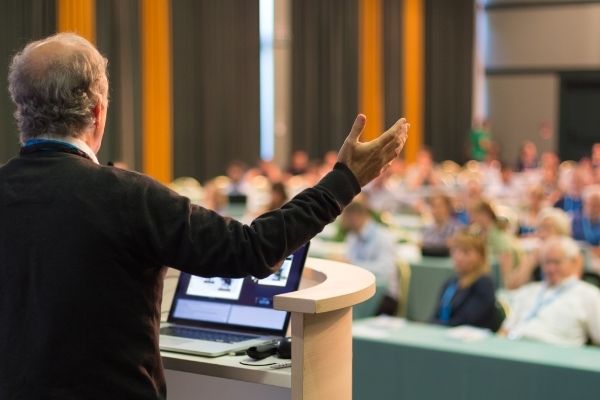 Putting together a good stump speech, elevator speech, and slogan is the key to effective political messaging.
Make your reasons personal
Do you have a personal story or experience that can resonate with voters? A political candidate's personal history can be a meaningful way to connect with people and help them relate to your platform.
For example, if you were born poor, you could describe your experiences and hardship. They could be the reason why you want to make things better for others.
Personal stories make great material for a political stump speech. A good stump speech is used throughout the election season. While it can vary in length, it is the most important speech that a candidate makes. It is told at fundraising events, rallies and when introducing themselves to groups of voters. A stump speech can be serious or humorous, but it should always keep the audience entertained.
Write a message that is authentic
Voters are good at detecting verbal posturing from politicians and political candidates. Saying one thing to one group of voters and something else to another will fool no one these days. The constant stream of footage and posts makes the truth much harder to conceal in the age of social media.
Inspiring or compassionate messages are most effective when they are authentic and consistent.
Populist messages are often used in political campaigns because they are easy to understand and can mobilize people. For them to be effective, they must be empathetic and inspiring.
Grassroots political campaigns mobilize and engage people who might not otherwise get involved in politics. They give people the power to make change happen. Grassroots messaging is often different from that of a large-scale campaign. For example, the narratives described will be shorter, more personal, and more emotional.
Your strategy may be influenced by you and your opponent's strengths and weaknesses. It may also center around an issue or particular theme. You may want to highlight your own strengths such as experience or skill in that area. If your opponent is an incumbent or has a particular strength, highlighting their weaknesses could be more effective.
Put together your elevator speech
An elevator speech is a short summary of who you are and what you do. Your elevator speech is the one-minute (or less) speech that you tell people who may ask, "What are you running for?" or "Why are you running for office?"
Giving stump speech is fine if you have the time. But you still need to be able to summarize yourself in a way that is concise, memorable, and compelling.
Here are tips for writing your elevator speech.
Introduce yourself by name and occupation (doctor, lawyer, teacher).
Explain briefly why you are running for office and what you want to do if elected.
Tell voters why they should vote for you instead of your opponents.
Offer a conclusion that is short but memorable (e.g., "I'm not a politician; I'm just a concerned citizen.")
Your elevator speech is often your introduction to the voting public. It's important that it makes a good impression. Take the time to come up with, write out, and refine your speech until you and your staff know it by heart.
You'll need to because it will be repeated over and over until Election Day.
The campaign slogan – your reason for running in condensed form
The next step is to strip down your overall message and create a memorable slogan for your campaign. Your slogan provides a first impression to voters as it is used in your advertising media, on everything from billboards or bumper stickers.
Your slogan should be short, simple, and catchy so that it can be easily remembered by voters. They sometimes use rhyming, alliteration, a play on words, or repetition. It doesn't need to be overly clever or creative as long as it resonates with the audience.
For example, Obama's 2008 "Yes We Can" campaign slogan was popular from the start. That slogan was simple and resonated with a large segment of the voting public. Other examples of clear and concise slogans are "Morning Again in America," "I Like Ike," or "All the Way with LBJ."
When creating your slogan, think about the overarching goal of your campaign. This goal can be something that impacts or affects all members of the community. It can be an issue, event or even a personal trait that can help voters decide who they will cast their vote for.
Conclusion: Put together your winning message today
Campaigns are about getting your message out to the voters. They are also about staying on message. It's important for campaigns to be authentic and not just chase what is popular at the moment.
Here is a list of some tips for staying on message:
Make sure your messaging is active, concise, and clear.
Use the same voice across all media channels.
Repeat it over and over again.
Give people something to do after they hear your message.
Keep consistent and stay on message to get the word out.
Winning candidates create a solid communication strategy that resonates with voters. Start creating yours today!
Like this post? Sign up to our newsletter below for free political campaigning tips and resources.
«
How Much Should You Doctor Your Candidate Head Shots?
7 Ways to Ruin a Campaign Website
»
Tags: campaign promotion, election tips, local politics, messaging