It's hard to tell the full extent that COVID-19 will have on political campaigning in 2020 and 2021. But one thing is certain – this pandemic will affect all campaigns, even local and down-ballot races.
With much of the country under quarantine, this presents a unique problem for political candidates who spend much of their time interacting with others at campaign events, shaking hands and meeting people face to face. Campaign staffers are being ordered to work from home. Field organizing has shifted to texting and phone banking. Digital campaigning and advertising is replacing door-to-door canvassing.
Campaigns will find this time particularly challenging for political fundraising. Economic activity has ground to a halt, and it seems that things become more difficult in the coming months. Major donors are already scaling back donations, and it's tough to ask for or receive donations from someone who has just lost their job.
This presents a prime opportunity for campaigns and organizations to engage online. Now is the time to build meaningful engagement with voters to grow support and donations.
Share helpful information on your website and your social media accounts. Build interaction between your campaign and your audience. Sharing personal stories and soliciting feedback can make a difference. There are people and businesses who need help. What are their stories? You can let others know about the volunteers and organizations that are making a difference in these trying times.
Keep connected through your email list. Email is still the most effective way to keep people up to date on what is going on and changes that are occurring from day-to-day. If you have a voter list, consider enhancing your data with email addresses to proactively reach out.
IP Targeting can help you reach homes directly. You can send banner ads to households with unprecedented precision. IP Targeting can complement traditional mailer and can act alone as a primary point of voter contact.
Texting and online organizational tools are growing in use. Face-to-face meetings and training must now be replaced with virtual contact. Some campaigns are using Google Suite, Office 365 and other collaborative tools like Trello.
It's time for campaigns to get creative. Even if you are a local candidate with a few months before election day, start getting familiar with the digital options available.
While fact-to-face interaction is critical to voter reach, safety challenges are a priority. The virus can't reach the digital realm. If you are running for local office, consider boosting your online presence. If your election is later this year, now is the time to reach out and start building trust and rapport.
Hopefully this crisis passes soon, and things returns to normal – whatever that was.
In the meantime, be safe and be well.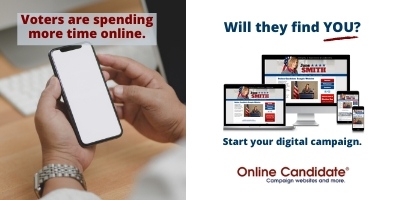 For  ideas and information on running a digital campaign, sign up for our email list below. Our guide, Running for Office as an Online Candidate, has been updated for 2021. If you are ready to start or expand your online campaign – from campaign websites to IP Targeting to video – we are here to help.
«
Campaign Email Templates Ebook Released
Local Campaigning Under Crisis
»
Tags: campaign promotion, campaigning under crisis, political advertising