Whether it's accepting donations, recruiting volunteers, or simply listing your policy positions, supporters and voters will turn to your website as the central hub of your campaign. This is why it's one of your first priorities when running for office.
Once you have your website all set up, it's time to face your next challenge.
Getting people to it.
Optimizing your site for search engines and linking back to your website on social media posts and ads is great to bring in generic traffic.
But in order to get targeted traffic: those people who are most likely to take an action when they land on your site (make a donation, sign up to volunteer or RSVP for an event), you need to reach out to them through channels that are engaging and personal.
Here's how you can use targeted text messaging to get political supporters to your site and take action:
Send them to your donation page
Fundraising text messages have click-through rates of a massive 13%. Compare that to email with just a 0.44% click rate.
It means that texting is one of the most effective ways to get supporters to donate to your campaign.
Initiate a peer-to-peer text conversation with supporters, linking them to your website's donation page:
Gauge their interest
Unlike mass texts, peer-to-peer texting is meant to be more conversational. Don't overload your first message with everything at once. Ask them if they are interested in supporting your campaign by making a donation.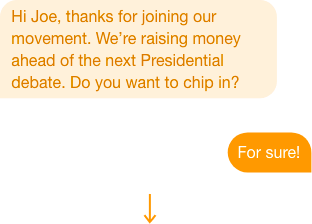 Link out to your donation page
If you get a positive response, send them a link to your website's donation page.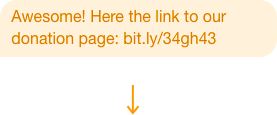 Thank them for their contribution
Donors appreciate being kept up to speed on your fundraising efforts. Show them the difference they made to your campaign by sending them political text messages that show impact.

You can even shoot out a mass text message to supporters at key moments of the campaign. For example, after a town hall or a debate, and ask for a donation. If you're making calls to get people to donate, you can send a follow up text message with the link to your donation page.
Get RSVPs and registrations for events
If you want to turn supporters into event attendees, you need to take them on a journey—from being mildly interested in your campaign and your event, to clicking on the link to your event registration form and entering their credit card details.
Having personalized conversations with supporters through a channel like political peer-to-peer texting is a great way to do it:
Send an initial text message to gauge interest
Lay out the bare details of your event in the initial message:
What is the event for?
When is it taking place?
Where is it taking place?
Conclude by asking your supporter if they are interested in coming to the event.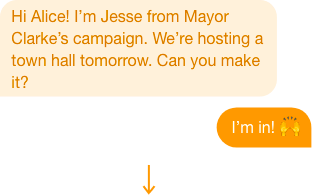 If yes, send a link
Send them a link to your website's event registration page. Make sure the page is mobile optimized.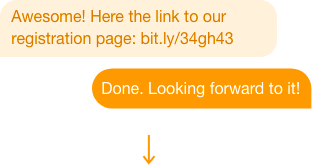 Acknowledge their registration
Once your contact has registered for your event, send a quick acknowledgement text thanking them for making the decision to attend.

Recruit volunteers
One of the best times to recruit volunteers for your campaigns is during your voter ID efforts.
If you find that someone is a strong supporter, ask them to volunteer and send them a link to your volunteer page on the spot.
Ask if they are likely to support your candidate
Most campaigns identify support levels on a scale, e.g. 1-5, where 1 highly likely to vote for your candidate and 5 is highly unlikely.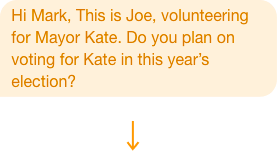 If they are a strong supporter, ask them if they are willing to help out with the campaign
Send a link to your volunteer registration page
If you get a positive response, you can send a targeted followup message.

In addition to getting people to your campaign website, use text messaging to:
Send campaign updates to supporters
A quick mass text is an easy way to reach all your supporters quickly and efficiently, especially if you are sending out time-sensitive info.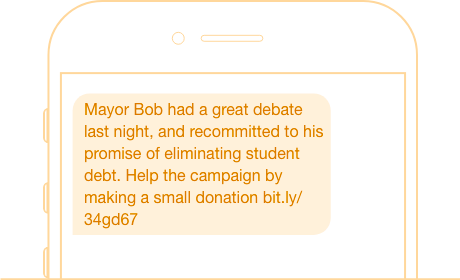 Run opinion polls
Send out a mass texting campaign to subscribers asking them for their opinion on an issue or an event. You can store the results on your texting software or CRM to analyze later.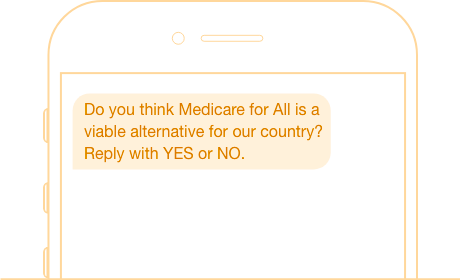 Get voters to the polling booth with GOTV texts
With peer-to-peer texts, volunteers can reach potential voters in personal conversations, and encourage them to vote. Because of its conversational nature, peer-to-peer texting gives your agents the ability to answer queries and send follow-up get out the vote text messages.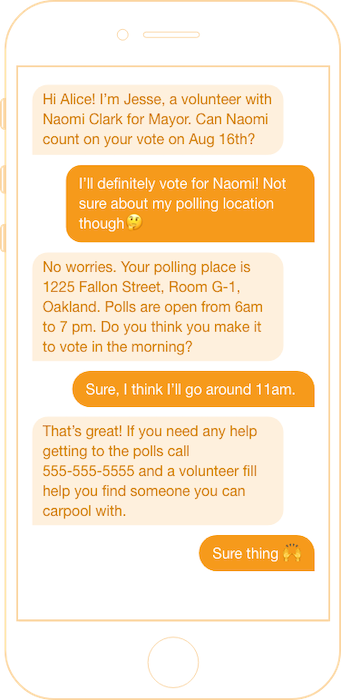 Text messages are often overlooked in the realm of marketing, but they shouldn't be. Text messages can be a powerful tool when it comes to targeting voters and supporters, especially when coupled with other marketing efforts. They're personal, timely, memorable, and convenient.
Mukundan Sivaraj is a political and nonprofit communications expert at CallHub, an outreach platform that connects organizations with their supporters through voice and text messages.
Related: Online Advertising Ideas For Political Campaigns
«
New Service: Campaign Promo Video Creation
Campaign Email Templates Ebook Released
»
Tags: campaign promotion, campaign volunteers, get out the vote, sms