A website is the digital front of every political campaign. A campaign website is the first point of contact that potential voters have with a candidate or cause. It is a crucial tool for any candidate running for office. A website can be used to promote the candidate, their platform, and their background.
The cost of creating a political campaign website can range from free with a DIY builder to thousands of dollars with a custom design. Those prices are determined by the needs of the site and how complicated it will be.
If you're looking to build a campaign website, you'll need to choose between two main options:
Hiring a web design company. This is usually expensive and time-consuming, so it's only recommended for larger campaigns with deep pockets.
Doing it yourself. If you have some knowledge of HTML or just know how to use Microsoft Word, then this might be an option for you.
Fortunately, Online Candidate provides both options. We provide the domain, hosting, and design, built-in forms, hosting, and more—all with simple, affordable pricing.
A website builder for those who want to 'do it yourself'
Our basic Lite Website Package and Monthly Option include a free .com domain registration, hosting, and our political website builder. The builder allows you to pick your own header graphic, fonts, and color schemes. You can upload your own header graphic or upgrade and have us design a logo for you. These packages are popular with candidates running in local races.
Our Monthly Website Option is geared for clients that do not want to go with one of our website packages and prefer month-to-month billing. Choose from a wide selection of header images, color styles, and font types to create a unique look. Then add your content and go live.
The Monthly Option price is $29/month and includes recurring billing that can be cancelled at any time. The Lite Website Package includes six  months of hosting and has a one-time price of $149. (You can extend your hosting if you choose.)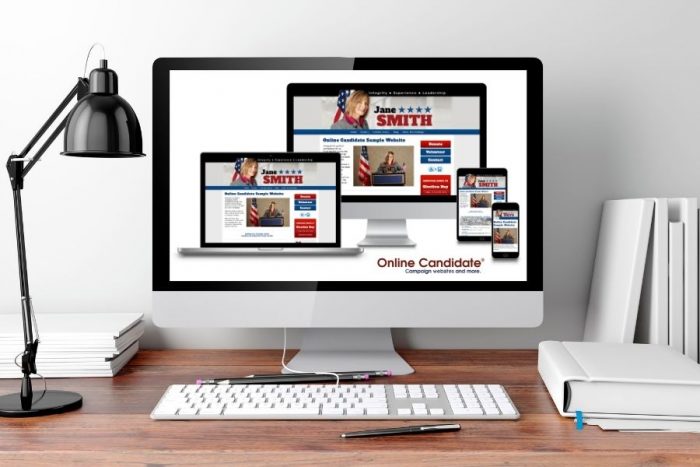 Or we can design and build your site for you
Generally, the price for a custom website is not fixed. It can depend on the size and complexity of the website. For example, a site requiring a small number of pages may cost less than one with many pages, different page layouts, and other added features.
By offering fixed-price packages, Online Candidate avoids this. Our Regular Website Package and our Enhanced Website Package both include professional design customization. With the Regular Package, you add your own content. With the Enhanced Package, we set up your initial content for you. These packages are recommended for larger campaigns for Congress or state-wide elected offices.
Both packages include site design customization. Need a campaign logo designed? We'll create a logo in a high-resolution format that you can also use for print. We'll arrange your copy and images and optimize your content for search engines. After that, it's all in your control.
Regular Package Price: $399, one time cost. Includes a custom design.
Enhanced Package Price: $599, one-time cost. Custom design and content setup are included.
Both packages include the Online Candidate website platform and site tools, free domain registration, custom site design, initial site content setup, and 12 months of hosting. (You can extend hosting after that period.)
How can we price our political campaign websites so affordably?
We've had clients who have used free website builders and found them too difficult or time-consuming. Others have told us that they have been quoted hundreds, if not thousands, of dollars. Generally, a reputable freelance web developer will charge around $1,500 for a basic website. The price can go up to $5,000 for a more sophisticated site with custom functionality.
With Online Candidate, we have our own custom content management system that is specifically created for political candidates. Most of our clients do not have much experience in web design, and don't have a large budget for custom programming. Our platform includes all the standard pages, widgets, and initial configuration right from the start. Built-in design options include header graphics, customizable color schemes, an image library, and more. Everything is already set and optimized for political needs, so there's no need to "recreate the wheel."
For custom design or content setup, have a process that allows us to build out your site within 2–4 business days. We try to make the process as painless as possible, so we can get your site launched quickly.
Clients can also use OnlineCandidateResources.com to get access to special marketing tools, social media templates, letter generators, and more.


Use our online tool to determine what services are best suited for you.
«
Digital Direct Mail Despite The Restrictions
Online Reputation Management for Political Candidates
»
Tags: website design, websites tips