NOTE: These website templates are NOT part of our Online Candidate campaign website packages. They do NOT include site hosting or any Online Candidate built-in tools or resources. We do not offer additional design or hosting services for these templates. For more information about our template-based political website packages, click here.
Online Candidate now offers political campaign website templates for download and use for customers who are not Online Candidate® clients.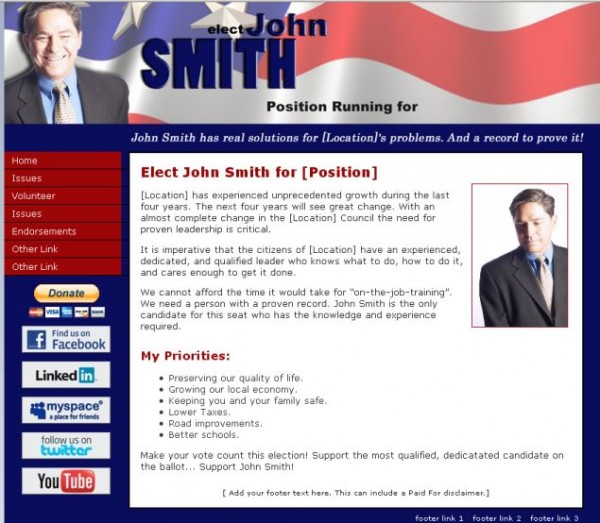 Our political website templates are designed for campaigns or candidates with the resources to build their own websites, but want a good design starting point. They are useful for campaigns that already have web hosting or are looking to update their site design.
The main template is a Dreamweaver Template file designed to be easily edited and customized by someone with HTML experience.
The best software to edit and customize these templates is Macromedia Dreamweaver. However, the files can be easily modified with any HTML editor.
Our Campaign Website Template Packages includes:
Dreamweaver Template File (.dwt file)
Tableless design
CSS style sheet, easily laid out containing all major styles, including header, navigation and link styles.
A PSD file to modify the header image (Edit text, colors, add images, ect. with PhotoShop or comprable image editing software.)
Image library, including donate buttons, social networking logos, major party logos, and assorted political graphics to incorporate into your site.
Our website templates save time and money over having a professional design one from scratch.
A Wide Selection To Choose From
Our most popular template is our Red, White and Blue Template. This template is designed to compliment the look of our Political Brochure Templates – Red, White and Blue Theme (sold separately).
Other designs include:
Political Website Template – Red, White and Blue Theme
Judicial Website Template – Black with Gold/Flag Accents
School Board Website Template – Slate Blue with Yellow Accents
Political/Military Website Template – Red and Blue Layout
Political Website Template – Black and Blue with Flag Accents
Political Website Template – Black with Green Accents
Political Website Template – Black with Red & Flag Accents
NOTE: Our website templates have been discontinued. If you are interested in these designs, they are built into our Monthly or Lite Website Packages.
«
Effectively Using Video for a Local Campaign
Tips for Creating a Great Campaign Brochure
»
Tags: templates, website design