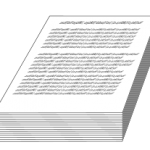 Below is a sample template for an initial fundraising appeal from a candidate to a friend or close acquaintance. It is a template letter from the Online Candidate Political Letter Templates package.
Note the basic letter structure. This sample campaign contribution letter begins with a candidate introduction, followed by specific issues and suggestions for solving those issues. Then comes an intent to run, and a request for support along with a specific, time-sensitive contribution request. It's wrapped up with a thank-you and reminder about the campaign website where supporters can find out more information about the campaign and how they can help.
Looking for more templates that cover ALL aspects of a political campaign – from fundraising appeals to press releases to endorsement requests to donor thank you letters?
Our templates can be adapted for all your campaign needs. They will give you a head start in creating solid correspondence that will get your message across in a professional manner. With these letter templates, you can create:
Well-written fundraising appeals that brings in donations.
Endorsement requests that help capture you in the best light.
Press releases that the local media will be happy to print.
Save time and effort with our Political Campaign Letter Templates!
Privacy assured. You may unsubscribe anytime.
Tags: campaign fundraising, campaign letters, campaign writing, fundraising, general campaign tips, political fundraising