Your Campaign Website Solution - And More!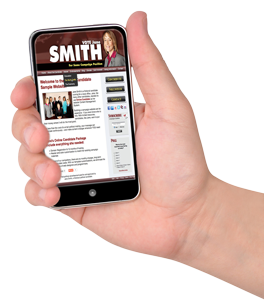 Looking for a website system specifically designed for political candidates? Look no further! Online Candidate® provides the hosting, design, built-in tools and exclusive marketing resources to build your online campaign. With simple package pricing, there are NO monthly charges, long-term contracts or hidden costs. You control your site and easily update it through any web browser.
For one low price, you will have a powerful campaign website that will stand out from your competitors and broadcast your message 24/7.
Online Candidate is the fastest and easiest way to get your custom political website up and running. Period.
First time running for office? Have questions about starting a campaign website? Call Carol at 866-460-0995.
Actual Custom Client Designs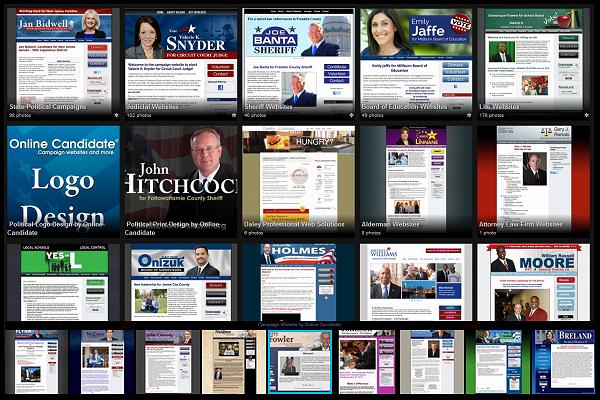 See our client design gallery, try our campaign site demo or compare the packages.
Professional looking, affordable and easy to use

"While preparing my campaign for State Senate I looked at a variety of different web sites and selected Online Candidate for three reasons - professional looking, affordability, and ease of use. Carol did a fantastic job responding quickly to my many questions. Thanks Carol and Online Candidate!"
Kevin B. - Read More
Three website packages to choose from

The choice is yours! Our Lite Website Package is perfect for candidates on a budget. For custom design and additional functionality, consider our Regular or Enhanced Website Packages. Each package provides a powerful content management system and built-in tools. In addition, your site is pre-populated with standard pages to help you get started.
Fundraise with ease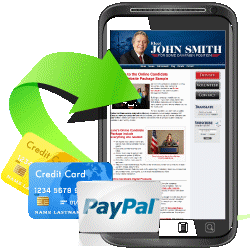 Encourage supporters to donate online. Online Candidate contribution forms fully integrate with PayPal. Have another payment system for your campaign? Partner with any service you want. It's simple to add custom code directly into your campaign site pages, embed donation forms or link to outside pages directly from your site navigation.
Best of all, we don't charge extra or act as a middleman with your campaign fundraising.
Recruit volunteers and collect endorsements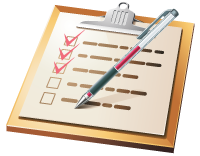 Recruit others for campaign tasks with a configurable volunteer form. Our built-in endorsement form collects positive testimonials from others for use in your campaign.
Leverage social media

Automatically link your Facebook, Twitter, YouTube, Instagram, Flickr and Google+ accounts to connect and engage with voters. Built-in bookmarking links lets visitors share your site content with others, helping to spread the word!
Helpful in Getting my Candidate Elected

"I am incredibly pleased with Online Candidate! Getting the campaign website up and running was a breeze. The features were great and helpful in getting my candidate elected. Customer service was awesome. Thank you, thank you, thank you!" Darice Fisher, PR Consultant and Political Strategist - Read More...
See our full features list and compare packages.
Political logo design - included
Our Regular and Enhanced Website Packages includes a custom-designed header, logo and color design - and we provide high-res version of your logo or header on request - for FREE! Why pay hundreds of dollars for a designer to create a custom campaign logo? We'll create one that you can also use for print and signage - and it's included in your package price!
Exclusive campaign training resources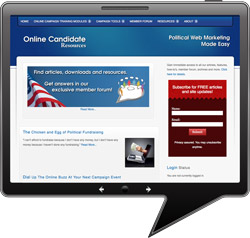 New to online campaigning? OnlineCandidateResources.com provides exclusive articles, tools, downloads and resources help you grow your online campaign!
Full Video Course - Running for Office as an Online Candidate
275+ articles focused on online political campaigning
Downloadable campaign worksheets and checklists
Custom tools, including the Campaign Letter Generator, Search Tools and more
Political resources for fundraising, email and promotion
And much more!
Discover best practices for social media, fundraising, email strategies and online advertising to get the online edge. Access is FREE for Online Candidate clients!
Besides political websites and online resources, we also provide helpful digital campaign products and related services for candidates running for city, county or state office.
Easy, painless - and affordable!
You have enough to do getting your campaign off the ground. Why let the creation of your web presence become a headache? Pick the package that's right for you, and you'll be on your way with a winning online presence!
Pick your campaign website package and order online or over the phone. After you order, you will be returned to an online form to supply us with basic contact and campaign information. From there, we can start your site setup right away!
Your website domain is set up in 1-2 business days - or less. You can log in and start building your site when you get your login information. For Regular and Enhanced Packages, if we have your candidate head shot and/or logo, your site design customizations can usually be finished within that time. For sites with the content setup option, allow 1-3 business days after submission of your material.
Go live! Once you are ready to launch, generate your site and go live! Afterwards, you have full control to update, edit and add content to your site.
Couldn't Have Been Easier!

"Creating a web site couldn't have been easier! Support was fantastic allowing us to achieve the results we were looking for!"M. Delcase - Read More...

Have questions about starting? Call Carol at 866-460-0995.