Political Campaign Website Packages ... And More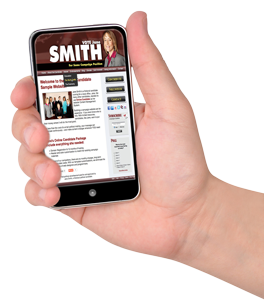 Looking for a website system specifically designed for political candidates? Look no further! Online Candidate® provides the hosting, design and tools to create and market your campaign. We offer simple website package pricing. There are NO monthly charges, long-term contracts or hidden costs. Count on a fast turnaround time for your custom-designed campaign website! With our customizations and our system's built-in tools, your campaign will have a fully-functional campaign website that can be easily updated through any web browser.
For one low price, you can have a powerful website to broadcast your message 24/7.
Online Candidate is the fastest and easiest way to get your custom political website up and running. Period.
First time running for office? Have questions about starting a campaign website? Call Carol at 866-460-0995.
Online Candidate® Demo

Try before you buy!
See how easy it is to configure and use an Online Candidate website. We've worked to make our content management system intuitive and very easy to use. NOTE: Some features are disabled in these demos. (Some people post naughty things...)
Learn more about our campaign website features.

Perform online fundraising with ease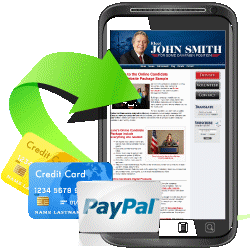 Take online donations in any way you choose. Online Candidate contribution forms are designed to fully integrate with PayPal.
Have another payment system for your campaign? Partner with any service you want. It's simple to add custom code directly into your campaign site pages, embed donation forms or link to outside pages directly from your main site navigation.
Best of all, we don't charge extra or act as a middleman with your campaign fundraising.
Recruit volunteers and endorsements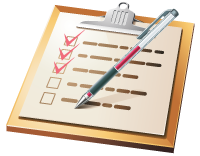 Our configurable volunteer form lets you easily recruit others for campaign tasks. Use the built-in endorsement form to collect positive testimonials from others for use in your campaign.
Leverage social media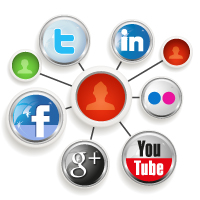 Easily link your Facebook, Twitter, YouTube, Flickr and GooglePlus accounts to connect to and engage with voters.
Customizable bookmarking links allow visitors to share your site with others.

Add social media widgets and make your website the 'hub' of your online campaign.
Access exclusive political marketing resources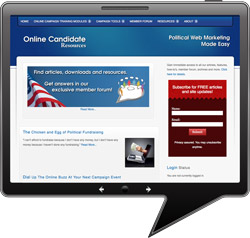 What good is a campaign website without proper online marketing? OnlineCandidateResources.com is our members-only website. With exclusive political articles, tools, downloads and resources, you'll get the most from your website investment with expert advice and support!
With exclusive articles, tools, downloads and resources, you'll get the most out of your website with expert advice and support!
More than just political website design
Besides campaign websites, Online Candidate also provides a wide variety of digital campaign products, resources and a free articles section with winning tips, tricks and techniques for candidates running for local office.
Easy, painless - and affordable!
You have enough to do getting your campaign off the ground. Why let the creation of your web presence become a headache? Pick the package that's right for you, and you'll be on your way with a winning campaign website!

Have questions about starting? Call Carol at 866-460-0995.