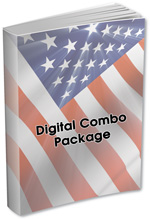 We've added a new digital combo item to our store! Our Campaign Letter Template Combo combines our popular Online Candidate Letter Templates and our Online Candidate Email Templates.
Our easy-to-use letter templates are made for use in your campaign correspondence. Don't recreate the wheel! Use these templates to add a professional edge to your campaign correspondence.
Our Political Email Templates ebook is designed for easy editing and integration in your campaign email correspondence. This guide is perfect for small political campaigns that need ideas and help putting together a solid email campaign.
Both ebooks together cost $29.90, but they are only $19.95 when purchased together!
View all our Digital Combo Packages for more details. Or become an Online Candidate website client and get access to our online Campaign Letter Generator and other online tools.

«
Should Your Campaign Register A Dot Com, Dot Org – Or Both?
Sign of the Times for Political Candidates – Best of Posts
»
Tags: email, political fundraising