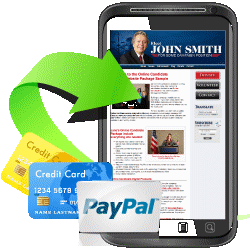 We have great news for our clients as we head into the 2015 election cycle!
First, we've standardized our platform. All of our website packages have the same set of features, including a content editor, built-in forms, calendar, splash page creator, image sliders and more. The only difference between the packages is additional services added.
All website package clients get exclusive access to exclusive online marketing tools through OnlineCandidateResources.com.
Due to client feedback, we now have a Monthly Option. It's designed for campaigns who do not want to go with one of our extended campaign website packages. The Monthly Option features recurring billing that can be cancelled at any time.
The Monthly Option contains our full feature set and is similar to our Lite Website Package in that you can choose from dozens of color scheme templates, header images and font types to create a unique look.
Finally, we've released Running for Office As An Online Candidate – 2015 Edition. Packed with tips, tricks and useful strategies, the ebook provides a blueprint for candidates who want to use the internet as part of an overall campaign strategy. Running for Office As An Online Candidate is available alone, as part of our Digital Combo Package and is also available on Amazon Kindle.
If you are running for office in 2015, now is the time to get started on your digital campaign. Sign up for our email list below for tips and ideas to make your campaign a winning one!
«
They're Not Campaign Supporters Until You Get Them in Voting Booth
The Fundraising Chicken and Egg Question For Local Candidates
»
Tags: campaign websites, site news