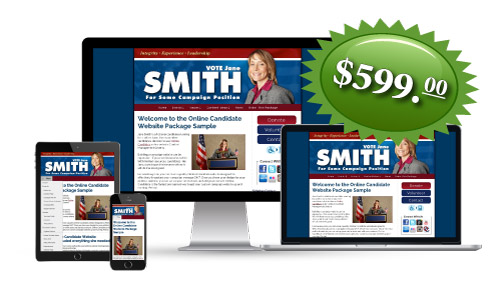 Our Enhanced Website Package is perfect for campaigns who need a  custom website built out that looks great – without the headaches of setting up a domain, hiring a developer or simply paying too much. Get the look you want with a website header including your campaign colors, logo, background and candidate head shot. We also customize your colors, font, background, buttons and more to create a fantastic design.
For less than the cost of a political mailing, you can broadcast your message continuously — and make content changes whenever YOU need them.
Online Candidate makes it simple to create your online message. Recruit supporters, raise funds, add events, upload files, create contact forms, build an e-mail list, run a poll and more.
Done For You – Design Customization and Full Site Content Setup
Save valuable time as we set up your initial website content for you. We'll arrange your site text and images for a pleasing design. After that, it's all in your control. This site setup is performed ONCE with the materials provided. (For fastest results, have your website content ready BEFORE you order.)
There are NO monthly charges, long-term contracts or hidden costs.
Price: $599 – Includes all platform features, custom design, initial content setup and 12 months initial hosting. (You can extend hosting after that period.) Order This Package Now.
The Enhanced Package is your best option if you want a custom design, long-term hosting and want to rely on our expertise to set up your website content.
Includes Custom Design and Content Setup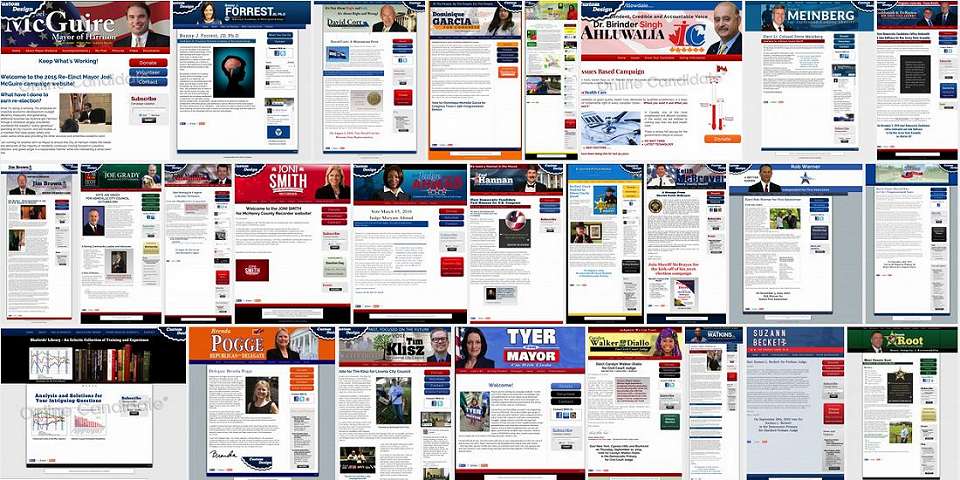 Why Choose Online Candidate?
Fast, affordable custom design: Look your best with a professionally-designed website! Turnaround time from the initial order to a finished site is within a few business days.
An integrated system: Our content management system allows for easy website updates and provides built-in tools that political campaigns require. Easy enough for inexperienced users, but flexible enough for 'techies'.
Integrate with other services: Tie in any social network, fundraising, or email system to your Online Candidate website. Build and expand as you see fit. Use your website as an online hub to build support, donations and votes.
Great support – The system itself includes detailed instructions within, along with additional support by knowledge base, email and phone.
Exclusive Marketing Tools: Online Candidate clients get exclusive access to our online marketing tools through OnlineCandidateResources.com and priority listings on OnlineCandidateLinks.com, our political campaign directory.
NO recurring monthly charges, long-term contracts or hidden costs.
More tools to help you win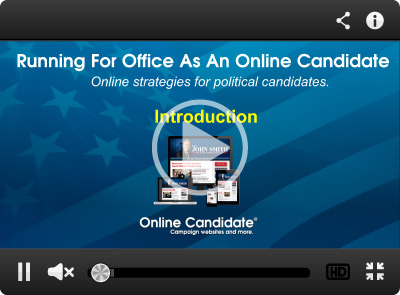 All of our website packages include FREE access to our exclusive political marketing site, OnlineCandidateResources.com. Find exclusive articles, downloads and tools, including:
Free Video Course – Running for Office as an Online Candidate
Exclusive articles focused on online political campaigning techniques
Downloadable campaign worksheets and checklists
Custom tools, including our Campaign Letter Generator
Resources for fundraising, email and promotion
And much more!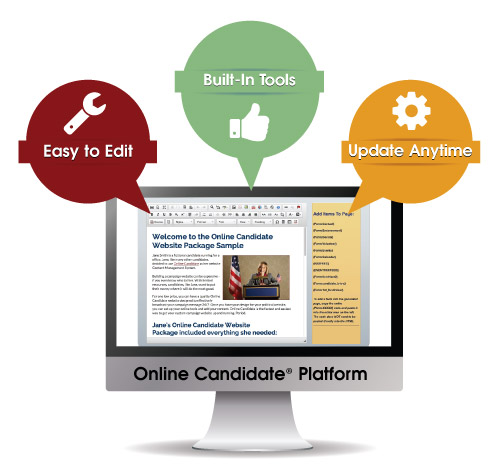 You have enough to do getting your campaign off the ground. Why let the creation and design of your political website become a headache? We've streamlined our setup process down to a few simple steps.
Pick your website package and addon services.
Choose your domain name and order online. Create your user account and start building your site. For Regular and Enhanced Packages, we will get to work on your design customizations.
Go live. Once you are ready to launch, generate your site and go live. You have full content control and the ability to recruit support and take donations.
Grow with your campaign. With our Lite Package and Monthly Option, you can upgrade for a custom design and look. We also provide options for Initial Content Setup, Social Media Graphic Design and our Website Launch Package. Options can be ordered when you start or at a later time.
You're not alone. We've worked to make our system easy to use. Your site administration contains step-by-step instructions for managing your site. If you are stuck, submit a trouble ticket and we'll respond quickly. If you have an emergency or important question, give us a call. Our customer interaction and attention to detail sets us apart from other services.
Additional Service Options

New to the online campaigning? We offer additional services to get your site promoted – fast. These add-ons can be ordered with your website or at a later time.
Site Launch and Social Media Setup Services: We can help your campaign get that initial promotional boost to rank well in the search engines and/or set up your campaign Facebook and Twitter accounts. This can be added as a Website Option or ordered when you are ready to launch.
MailChimp Setup and Integration: Save time and get your email campaign started the right way. Let us set up and configure your Mailchimp account so you can concentrate on your campaign. This can be added as a Website Option or ordered or later.
Print Design Services: We can create attractive campaign brochures, print material and and signage in a variety of formats. Hourly rates apply.
Have questions? Call Carol at 866-460-0995. Check out our site demo or order now!